Chip Kelly told media, including Matt Maiocco of CSNBayArea.com, today Colin Kaepernick's decision to sit down while the national anthem played last night will not affect his standing in the 49ers' quarterback competition.
When asked if Kaepernick's roster spot was in jeopardy, the first-year San Francisco coach responded, "He's competing with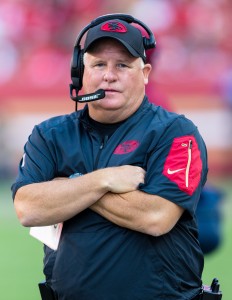 Blaine [Gabbert] to see who our starting quarterback is going to be."
After the 49ers' third preseason game last night, Kelly said, via Mike Florio of Pro Football Talk, a discussion on cutting ties with the 28-year-old quarterback has not taken place. Kaepernick didn't fare especially well in his 2016 debut Friday night, but the sixth-year passer would be difficult for the 49ers to release. The 49ers keeping him around after April 1 made his $11.9MM fully guaranteed for this season. That said, the team isn't exactly operating with a win-now mentality, judging by the league-most $46.6MM the 49ers possess in cap space. By waiting until 2017 to part with Kaepernick, the 49ers would only have to eat $4.9MM in dead money.
Kaepernick would earn an additional $2MM this season by being on San Francisco's roster for nine games, but again, the team operating this far under the cap might not make his pay-as-you-go contract an issue for this season. But coupling the money and a potential controversy surrounding a player who as of now doesn't look to be slated to start may become an issue for 49ers management.
Kelly voiced support for the embattled quarterback's decision to make a racially themed statement by not standing for the anthem, one he also made to much less fanfare last week in Denver — albeit while in street clothes. The 49ers' statement also recognized Kaepernick's right not to stand for the anthem. Players are encouraged to stand for the anthem but are not required to do so, the league said in a statement Saturday.
"We recognize his right to express his feelings," Kelly said. "It's not my right to tell him not to do something."
Gabbert looks likely to retain the starting job he grabbed midseason after the team benched Kaepernick before soon placing him on IR. The former second-round pick rehabbed throughout the offseason after three surgeries. San Francisco nearly dealt him to Denver, but Kaepernick's salary proved to be a stumbling block in those talks after. He refused to accept a pay cut to facilitate a deal, with the 49ers also balking at paying $5MM of his salary to do the same.
Christian Ponder and sixth-round rookie Jeff Driskel are the 49ers' other quarterbacks.
Photo courtesy of USA Today Sports Images.
Follow @PFRumors