How did new Chiefs quarterback Nick Foles fall so quickly from his success in 2013? Charles Robinson of Yahoo Sports set out to answer that question by talking to NFL evaluators and came back with a different one: How did Foles ascend so quickly and was his success in Philadelphia real?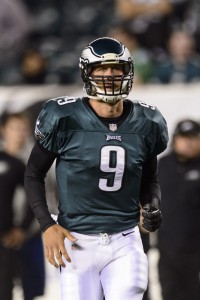 Foles made a name for himself in 2013 when he threw for seven touchdowns against the Raiders. While Foles made smart throws that day, it appears that the Oakland defense just overmatched in general.
"Throwing [seven touchdowns] – it's beyond unusual," one anonymous football person told Robinson. "[But] I think most coaches would agree that it's more likely to happen now than any other point in history. So you have that in your mind when you're clicking through his tape. Then you look at that [Raiders defense]. How many are still starters three years later? How many are still in the league? You have to look at that kind of thing. … Then look at the seven [scoring] plays. I see it the same way I would look at a college quarterback. What is on the other side of the ball and what is attributable to the offense, versus what is attributable to the quarterback's ability being the difference?"
Another evaluator familiar with Foles posited that the quarterback was benefitting from teams facing Chip Kelly's offense for the very first time. Once the opposition got used to Kelly's style and pace, Foles' flaws were exposed to the entire league. The veteran will now look to reprise his success from a few years ago in KC, but expectations should certainly be tempered for him.
Here's more out of the West divisions:
Jason Fitzgerald of Over The Cap doesn't quite understand the Cardinals' motives in the extension given to Tyrann Mathieu, outside of a desire to avoid distractions on a contending team. The Cards are giving the safety a $15.5MM signing bonus, $20MM in first year new money, and a large 2018 offseason roster bonus. Meanwhile, tagging Mathieu (as a safety) next year only would have cost the team around $12MM. Even if he were classified as a corner, Mathieu would have only cost ~$14MM. Fitzgerald is also perplexed by the lack of injury language in the deal. While Mathieu did not receive the kind of injury guarantees that most players would get, Fitzgerald expected the team to tie more of his money to per-game bonuses than they actually did.
Earlier this week, the 49ers inked linebacker NaVorro Bowman to a massive extension. Bowman still had multiple years to go on his deal but the new pact will keep him locked up through the 2022 season.
Raiders safety Neiko Thorpe accepted a pay cut in order to stay on with the team.
Photo courtesy of USA Today Sports Images.
Follow @PFRumors