The old adage that defense wins championships may or may not be true, but you'll be hard-pressed to find a title-winning team that didn't build heavily through the draft. Rookie classes, naturally, are evaluated on the perceived upside of the NFL newcomers, but which rookies are ready to contribute right out of the gate? And, how do they fit in with their new team schematically?
To help us forecast the immediate future of these NFL neophytes, we enlisted the help of draft guru Dave-Te Thomas who has served as a scouting personnel consultant to NFL teams for multiple decades.
First Round – Josh Doctson, WR (TCU, No. 22 overall)
Washington knew it was their defensive unit that needed the most immediate help, but in the opening round, finding a precise route runner like Josh Doctson still available was just too good for the team to pass up. While most analysts felt the Redskins would go for secondary help with the 22nd overall selection, the arrival of the TCU standout could make the 2016 season the final one for either Pierre Garson or DeSean Jackson – or both. The selection of Doctson broke the hearts of Minnesota and Cincinnati, picking right after Washington. Both teams did not make it a secret that they both coveted the services of the Horned Frog.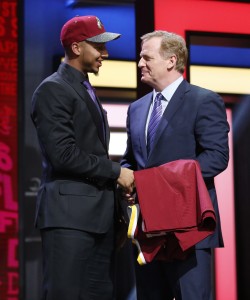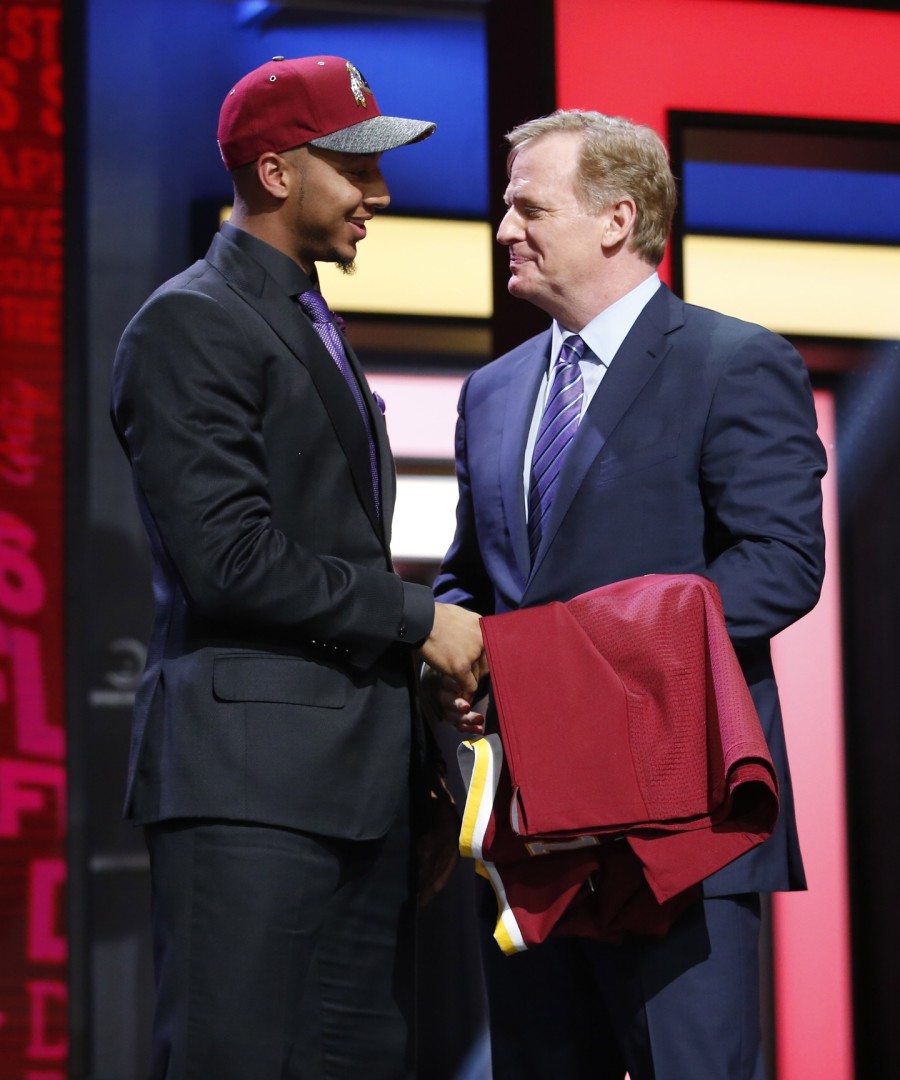 Doctson saw injuries sideline him at the end of the year, as he underwent wrist surgery. He sat out the final two regular season contests vs. Oklahoma and Baylor before returning briefly in the Alamo Bowl, but he was a non-factor vs. Oregon. Ultimately, he was one of three finalists for the Biletnikoff Award (nation's top receiver) and garnered first-team All-American honors.
Doctson eased his way into the Horned Frogs lineup for six games in 2013, as he managed to pull in 36 balls for a 12.2-yard average. Based on that debut, few could have imagined that he would begin his two-year tear through the school record books. Perhaps due to league politics, Texas Christian officials were just as puzzled as our staff was when it was announced in 2014 that Doctson was only named to the league's second-team postseason squad.
Doctson has a rangy, angular build with long arms and legs. Has a frame built for quickness – split high, lean and well-defined with big hands. He might lack the bulk desired from today's flankers, but he shows good upper body muscle tone, tight waist and hips, good arm length and hand width, tapered thighs and calves, along with a good bubble.
He lacks outstanding speed, but Doctson is a smooth route runner with the ability to stretch the field and separate, along with the natural hands needed to make the difficult catches. He displays above average balance and crisp change of direction agility to gain valid yardage after the catch and has the ability to extend while tip-toeing along the sidelines for the soft pluck. He does a good job of gaining separation off the snap due to his initial quick step. The thing you see on the field is his natural feel for making adjustments on the move, displaying good fakes and a bit of con in him to set up defensive backs in attempts to get open. He does a very nice job of sitting down and uncovering, allowing with showing good boundary awareness to keep his feet working along the sidelines. He also shows very good vision to separate after the catch. While he'll have some adjusting to do at the next level, Doctson offers certain tools and instincts that you wouldn't typically expect to see out of a rookie.
Continue reading about the Redskins' rookie class..
Second Round – Su'a Cravens, LB/S (USC, No. 53 overall)
Cornerbacks William Jackson III and Artie Burns were still available when the team took Doctson, but while corner was a need, the team was not impressed with either player. At least, not as a first round option. More pressing needs were at safety, where Dashon Goldson had a miserable season as their starter on the strong-side last season. Goldson was jettisoned from the team after the 2015 schedule and Denver's David Bruton was brought in to at least occupy the spot temporarily.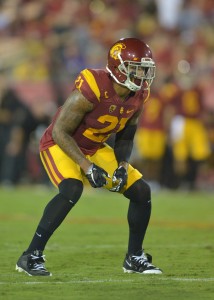 The future there could be second round USC standout, Su'a Cravens, as he also offers the team a versatile piece that could be an option at weak-side linebacker, but with serious questions at middle linebacker, the former Trojan will be moving around quite a bit in camp to fins the perfect place to groom this standout talent. Based on the current depth chart, Ryan Kerrigan is capable of holding forth at weak-side 'backer, but the interior defenders, Will Compton and Perry Riley might have to be looking over their shoulders, if Cravens is shifting inside. They will also have to fend off challenges from Mason Foster and Boston College strongman, 2016 seventh rounder, Steve Daniels, if they hope to hold on to a roster spot by September.
Cravens created a pleasant dilemma for teams evaluating his draft stock. Most 3-4 aligned teams consider him a better fit as a weak-side outside linebacker, but our staff feels that he should either return to his early career roots as a hybrid strong/safety/linebacker or make the switch to the defensive backfield a permanent one. Playing on the weak-side in 2015, he led the team with 86 tackles, 5.5 sacks, and fifteen stops-for-loss.
Still, he was also highly effective in the short area passing game, allowing just 15.3*% of the passes targeted into his area (6-of-39) to be completed. Along the way, he rerouted sixteen opponents away from pass plays, broke up six other throws and intercepted two others. In 2014, playing more in the backfield, he delivered 68 tackles that included a team-best seventeen stops behind the line of scrimmage, nine pass break-ups and an interception that he returned for a score.
Cravens is a superb space player, but can also be an impact performer when challenging multiple blockers in tight quarters. He is very quick and active with his hands to control and get off blocks in attempts to get to the ball. Cravens is also strong for his size and can hit with leverage to stun lead blocks and cause a pile, compensating for not having great "sand in his pants" to take on linemen. The USC product has more than enough functional strength to take on blocks and shed vs. slot receivers, tight ends and fullbacks.
Cravens has above average strength to attack the outside leg of the ball carrier to quickly impede that opponent's forward progress (see 2015 Arizona State, Notre Dame and Utah games). It is rare to see him get out of control, as he is a calculating and aggressive hitter who closes fast, hits face up and wraps solidly. He is the type that collides with ball carriers upon initial contact and has the strength to shed blocks and stay on the ball.
The youngster offers the the speed to cover ground from sideline-to-sideline and the smarts to switch assignments with great anticipation skills. Cravens is well-equipped to play linebacker or safety in either man-coverage or zone-coverage schemes. The Redskins may have found a real gem in the second round this year.
Sixth Round – Nate Sudfeld, QB (Indiana, No. 187 overall)
The Redskins won't have to commit to rising star Kirk Cousins after he accepted the one-year franchise tender. Of course, we'll know whether that was a wise move for Washington by this time next year. If Cousins repeats his performance from last season, a much heftier payday is on the horizon. Perhaps hedging their bets, in case Cousins is actually in a walk year, they might have found one of the draft's better day value picks when rifle-armed Nate Sudfeld was still available in the sixth round. While lacking in mobility, the Hoosier's arm strength is unquestioned. Besides, the team could no longer fool themselves that Colt McCoy would be a capable fill-in, could they?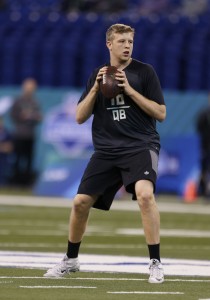 Size, arm strength, and intelligence set Sudfeld apart from the rest of the QB class this year. Brother Zach was a standout tight end at Nevada and at Indiana, the younger brother found the national spotlight, proving that he was fully recovered from 2014 injury woes.
Sudfeld has a tall and good developing thickness on his frame, similar to that of a tight end than a quarterback. He has an exceptional wing span with long arms and towers over defensive lineman, making it better for him to scan the field. No one will confuse Sudfeld for a prime Michael Vick, but he offers adequate athleticism on the move, along with the thick thighs and strength to break tackles as a ball carrier. Even with his big frame, good chest thickness with muscle definition, broad shoulders and long limbs, he has yet to reach his maximum growth capacity.
Sudfeld is a good student of the game, raised in a pro-style passing attack during both his prep and college playing days. There is no question that he is a smart passer with keen eyes scanning the field, doing a nice job of making reads and following through with his progressions, evident by the minimal amount of his passes that were intercepted (2.26% of 752 attempts). He has those innate instincts, along with developing decision making skills that makes one feel he can handle a pro offense in a short time, with patient coaching. A true "student of the game," Sudfeld has the potential to be a starter somewhere down the line. If something should happen to Cousins during the 2016 season, he may prove to be a more capable fill-in than McCoy.
Dave-Te Thomas owns and operates The NFL Draft Report, a service providing insight to league scouting departments for over 40 years. All year round, you can read Thomas' in-depth reviews of both blue chip prospects and diamonds in the rough by visiting the NFL Draft Report blog.
Photos courtesy of USA Today Sports Images.
Follow @PFRumors