The Patriots have had enough Pot Roast. Veteran defensive lineman Terrance Knighton was released by the Pats this morning, as first reported by Knighton himself on Twitter. By cutting Knighton, the Pats save $900K in salary and $3MM in bonuses.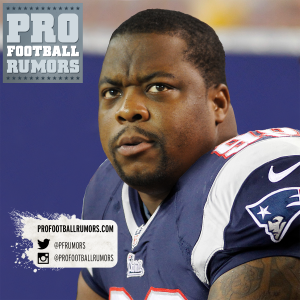 This offseason, the Pats inked Knighton to a one-year, $4.5MM deal. However, he struggled in the team's second preseason game against Chicago and he did not log a single defensive snap during New England's third preseason contest against Carolina on Friday night. Knighton found himself slipping on the Pats' depth chart in recent weeks and his salary was no longer justifiable for the team, even though they have seen stars like Rob Ninkovich go down with injuries.
Knighton, who started his career in Jacksonville, spent two seasons in Denver before heading to Washington for the 2015 campaign. The 30-year-old has been very durable in his first seven NFL seasons, appearing in 108 total regular-season games, including 96 starts.
A nose tackle in Washington's 3-4 scheme, Pot Roast logged 29 tackles and 1.5 sacks in 2015. Although he didn't have quite the same impact last year that he did during his final season as a Bronco, Knighton ranked in the top half of Pro Football Focus' list of qualified interior defenders, placing 58th out of 123 players. Predictably, PFF assigned Knighton a much better grade as a run defender than as a pass rusher.
The Patriots now must release six more players by 3pm CT on Tuesday in order to reach the 75 man max.
Photo courtesy of PFR on Instagram.
Follow @PFRumors