Saints first-round defensive lineman Sheldon Rankins is believed to have suffered a broken fibula based on the initial tests conducted, a source tells Ian Rapoport of NFL.com (on Twitter). If that's the case, the first-round pick is likely a candidate for the IR-DTR list, which would allow for a mid-season return to action.
Adam Schefter of ESPN.com (on Twitter) hears that Rankins is likely to be sidelined for about six weeks. Another person familiar with Rankins' injury said the initial prognosis has him missing 6-8 weeks, Schefter tweets.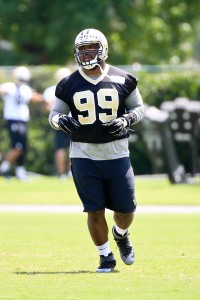 Rankins has more tests on the docket to learn what other damage there could be besides the broken fibula (link). If those tests come back clean, a return is possible.
Scouting guru and PFR contributor Dave-Te Thomas has been looking forward to Rankins' debut for some time now.
"Rankins is a strong tackler who will strike and deliver a blow," Thomas wrote for NFL Draft Report. "He is conscious of wrapping the outside leg of ball carriers to prevent the opponent from leaning forward to gain extra yardage after that initial hit…As a pass rusher, Rankins can beat you with either his speed or power. He has very good body control and excellent hip snap. His hand usage and quick burst off the snap lets him consistently pressure the quarterback. He also has very good confidence in using his rip and club moves on the bull rush and has very good agility to spin away from the initial block and stymie the counter moves."
Photo courtesy of USA Today Sports Images.
Follow @PFRumors