With the season fast approaching, we're chatting with beat writers from around the league to gain insight on each team's offseason and how those moves will impact the season ahead.
Now, we continue the series by discussing the Rams with the team's newest beat writer, Alden Gonzalez of ESPN.com. You can follow Alden on Twitter @Alden_Gonzalez and check out his stories here.
Zach Links: For those of us who aren't in the Los Angeles area – what's the excitement level like in L.A. for the Rams' return?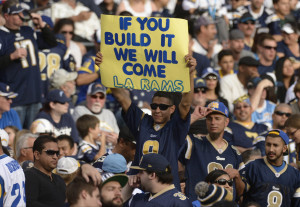 Alden Gonzalez: It's been about what you would expect for a team returning to a huge media market, and by that I mean it's been high. They sold 171,000 tickets to their first two preseason games. That is absurd. Chiefs quarterback Alex Smith, who played at Los Angeles Coliseum in Week 2, raved about how loud it was through even the fourth quarter, when all the subs were in. And each open-to-the-public practice I've attended has filled up at least one section of bleachers. The novelty will eventually rub off, of course. They'll have to win pretty quickly in order to maintain attention spans out here.
Zach Links: The Rams are expected to extend coach Jeff Fisher and GM Les Snead before the start of the season. Do you think it's wise to extend them given that Fisher's teams have gone 27-36-1 in the last four years?
Alden Gonzalez: Yeah, I do. I know it isn't the popular opinion, but extending a GM or a coach does not mean that individual cannot eventually get fired. Especially not for a multi-billionaire like Rams owner Stan Kroenke, who would barely flinch at having to eat whatever remains of contracts for Snead or Fisher if such a scenario took place. Snead and Fisher are at the end of their current deals, and it's hard to operate like that. The Rams have enough newness going on – new quarterback, new city, one of the youngest rosters in the NFL – and it looks like they at least want some stability up top. Snead and Fisher both know the pressure is on to start winning, whether their contracts are extended or not.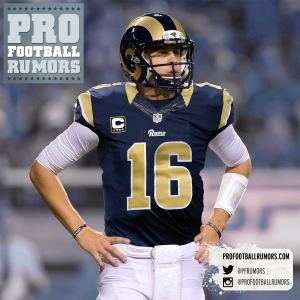 Zach Links: How high is the ceiling for Jared Goff? Do you think we'll see him take over as the starter at some point in 2016?
Alden Gonzalez: I expect him to be the starter at some point in 2016; the only question is when. Barring an uplifting performance in Week 3 of the preseason, though, I do not see him starting the Monday Night Football opener on Sept. 12. He just hasn't shown enough yet. He needs to be more decisive, he needs to take care of the football and he needs to do a better job of picking up blitzes. All that, in addition to learning to call plays from the huddle and learning to take snaps from under center – two things he really never did at Cal. As far as upside – I think he can be an elite-level passer if he irons those things out. The raw tools are there.
Zach Links: A second franchise tag for Trumaine Johnson would cost the Rams $16MM+ next year. To date, they have been unwilling to pay him like a top NFL cornerback. Do you expect to see Johnson wind up somewhere else in 2017?
Alden Gonzalez: I think they'll try to keep him. The Rams lost two key pieces in their secondary this offseason, in cornerback Janoris Jenkins and safety Rodney McLeod, and can't afford to lose Johnson, too. The Rams reportedly offered Jenkins a five-year, $45 million extension before he chose to sign with the Giants. If Johnson has a solid year as the primary corner, I expect the Rams to try to retain him. He's shown enough.
Zach Links: The Rams picked up their fifth-year option for Tavon Austin, meaning that he'll earn $12.2MM+ in 2017. Do you have as much confidence in Austin as the Rams' front office apparently does?
Alden Gonzalez: Last year was something of a breakout season for Austin, who caught for 473 yards and rushed for another 434. Perhaps he hasn't produced to the level of his forthcoming salary, but the Rams are so desperate for playmakers at wide receiver that they badly needed to retain Austin. His time could be running out, though. Fourth-round pick Pharoh Cooper has very similar attributes and is already locked in as the Rams' No. 3 receiver.
Zach Links: How do you think the Rams' first season in Los Angeles will go? What record do you see them finishing with?
Alden Gonzalez: If I had to guess, it'd be 7-9, again. Let's just go through it real quick. Their defensive line is elite, but, as stated earlier, they lost some key pieces in their secondary and have to fill the void of James Laurinaitis at middle linebacker. That's a lot of new personnel in the second and third levels. Offensively, Todd Gurley is a stud. But the Rams' biggest issue last year was their passing game, by far the worst in the league, and they didn't do much to drastically alter that. Basically the only way that improves is if three rookies – Cooper, quarterback Jared Goff and tight end Tyler Higbee – really step up. And then on top of all that is the fact they play in the same division as the Seahawks and Cardinals, two teams that may have the two deepest rosters in the NFL. The Rams are still young, though. They may be a year away.
Photos courtesy of USA Today Sports Images and PFR on Instagram.
Follow @PFRumors