With the season fast approaching, we're chatting with beat writers from around the league to gain insight on each team's offseason and how those moves will impact the season ahead.
Now, we continue the series by discussing the Titans with Terry McCormick of the TitanInsider.com. You can follow Terry on Twitter @terrymc13.
Zach Links: After a strange year with the Eagles, do you think DeMarco Murray is poised to be an elite running back once again? 
Terry McCormick: I don't think he'll get to the 1,800 yards that he got with the Cowboys two years ago because you have Derrick Henry in the mix, but I do think he'll be an effective running back for the Titans, much more so than he was with the Eagles. He'll be in a run based offense and will get plenty of opportunities to carry the football and that was evident from outset in the preseason game. The Titans want to run the football and want to run it often and he'll be the lead back in that. He won't put up numbers like he did in Dallas, but his numbers will rebound nicely. I'd look for him to finish the year with something between 1,100 and 1,400 yards.
Zach Links: The Titans signed Andre Johnson late last month. What can he bring to the table at this point in his career?
Terry McCormick: It's obvious he's not the Andre Johnson that he was five or six years ago with the Texans, but the trade of Dorial Green-Beckham opens up a spot for him on the roster. He brings not only veteran leadership to the table, but also brings what coach Mike Mularkey wants from his receivers: guys that will run the correct route and get there on time and catch the football. Part of the problem with [Green-Beckham] was that he was too inconsistent. Despite his vast physical skills, you couldn't always rely on him to do those things. Johnson is a veteran presence and I could see him being the fourth receiver on the team. He definitely looks like he'll make the roster.
Zach Links: What did you make of the Green-Beckham trade? Did you think the Titans should have tried to get more for him?
Continue reading about the Titans..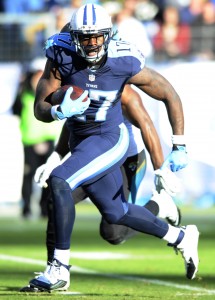 Terry McCormick: I think maybe they should have hung on to him and given him more time to figure things out. Guys with his skill set don't come down the pike too often. But, in the minds of GM Jon Robinson and the coaches, they weren't willing to wait on him to try and figure things out. They gave him a year and a half and, while he showed flashes of greatness, they didn't happen often enough or consistently enough. He also tended to compound things with bad plays and what they got was a guy who had really high highs and really low lows. They weren't willing to go forward with that.
I think they should have given him more time, but I understand why they gave up on him. It does seem like they gave him away for only a backup offensive lineman type (Dennis Kelly), but other teams saw the flaws that the Titans saw and that hurt his stock.
Zach Links: The Titans wound up at No. 8 overall in this year's draft and selected Jack Conklin instead of fellow tackle Laremy Tunsil. Do you think Conklin will prove to be a wise pick?
Terry McCormick: I think Conklin was very good pick and they are very happy with what he's done so far. He's a rookie and he'll have growing pains when he goes against J.J. Watt or Von Miller types, but when you look at everything with Tunsil form the bong video to the problems he's had getting accelerated with the Dolphins, I don't think they'll regret one bit passing on Tunsil.
Zach Links: Will the Titans improve significantly in 2016? What record do you see them finishing with?
Terry McCormick: I think they'll be much improved and more competitive. Anything can happen in the AFC South, which was one of the weakest divisions in the NFL last year. With that said, I see them finishing 6-10 or 7-9 while being competitive in most games. I'm not ready to say they're ready to go to the playfofs, but I think if they can take a big leap forward, they'll be in the playoff picture next year.
Photos courtesy of USA Today Sports Images and PFR on Instagram.
Follow @PFRumors