With the season fast approaching, we're chatting with writers and columnists from around the league to gain insight on each team's offseason and how those moves will impact the season ahead.
Now, we continue the series by discussing the Cardinals with Will Leitch. Will is a senior writer for Sports on Earth, a contributing editor for New York Magazine, and hosts the daily podcast "The Will Leitch Experience." You can follow Will on Twitter @WilliamFLeitch.
Zach Links: Like many Cardinals fans, you were puzzled by Carson Palmer's collapse in last season's playoffs. This offseason, the Cardinals tied themselves to the veteran through 2018 with an extension. How do you feel about Palmer as the Cards' QB heading into this season?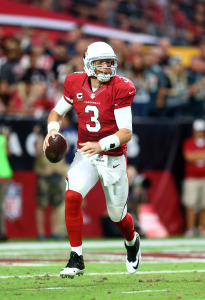 Will Leitch: Yeah, he was a nightmare in the playoffs, like he'd forgotten everything that had made him and the team great throughout the season. You'd actually seen that in the Packers game, some dunderheaded mistakes that weren't indicative of how he played in the regular season, but I thought it was attributable to him still not having that playoff-victory monkey off his back. And then he was ten times worse against Carolina. So, yeah, it's worrisome, but not NEARLY as worrisome as it would have been if Palmer hadn't have come back, or if he gets hurt. Palmer is the perfect fit for this offense — the only thing that isn't perfect is that he isn't 27 — but more to the point, he's the only available fit for this offense. As bad as the playoffs were, the team would be completely lost without him. I'm terrified that he goes down in Week Two and the whole team implodes. The Cardinals have had some truly awful quarterbacking over the last decade; I'm twitching just thinking about it. No offense to Drew Stanton, but yes: Palmer is the whole sandwich here.
Continue reading our Q&A with Will Leitch..
Zach Links: Before the extensions for Palmer and Larry Fitzgerald, there was speculation that 2016 could be the final season for both players. Despite the deals, do you think we might see one or both of them call it quits after this year?
Will Leitch: It would require a career-ending injury for Palmer. Fitzgerald was surprisingly great last year, but he's obviously not the player he was, overtime against the Packers aside. He's a slot guy, and while he serves that role well now, you can see him fading a little more each year. He's awesome, but he's still a 33-year-old WR.I think the bigger issue with him is if the Cardinals can win a title. It's clear the Super Bowl loss to the Steelers still kills him — I know how he feels — and he desperately wants a title to go into the Hall with. If he gets one, I can see him retiring on the spot.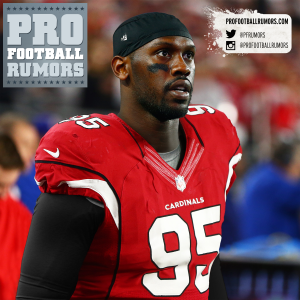 Zach Links: The Cardinals shocked everyone in March when they acquired Chandler Jones via trade from the Patriots. What kind of impact do you expect Jones to have this year?
Will Leitch: Oh, we're very excited. The one thing the Cardinals weren't terrific at last year was rushing the passer, so Jones is ideal. Now, I get a little nervous when Bill Belichick gives up on a player, but he's exactly what we were clamoring for. If he's three-quarters of what he was last year, we might be monsters.
Zach Links: The Cardinals left St. Louis when you were 12 years old, but you remained a fan when they relocated to Phoenix. You've made the case that it's easy for Rams fans to do the same in 2016 thanks to the internet and NFL Sunday Ticket. Do you expect that the Rams will have a lasting contingent of fans in St. Louis? Or will most Missourians wind up being football widows?
Will Leitch: Well, Stan Kroenke was such a monumental asshole on his way out the door that I don't think any St. Louis fan wants anything to do with the team, and I don't blame them. Good riddance. If they want to remain Rams fans, they can, but if they're playing the nostalgia game, we'd love to have them back. At least the Bidwills didn't excrete in the Mississippi River on their way out of town.
Zach Links: How do you see this year playing out for the Cardinals? Will they win the NFC West? Do you see them in the Super Bowl mix?
Will Leitch: I think they're a complete team, but the two things that scare me the most remain issues: 1. Palmer's injury history (again, we're toast without him), and 2. the Seattle Seahawks. I'd argue the three best teams in football are all in the NFC: The Cardinals, the Seahawks, and the Panthers. The Seahawks caught some bad breaks last year, but they're machines. I might pick them to win the division. Then we get the Cardinals-Seahawks NFC Championship game we're all desperate for. (It would be so amazing.) Unless Palmer gets hurt. If that happens, well, I hope we stay ahead of the 49ers.
Photos courtesy of USA Today Sports Images and PFR on Instagram.
Follow @PFRumors