We'll soon find out exactly where Tim Tebow stands as a baseball player. The former Florida standout and NFL quarterback will work out for major league scouts on August 30th in Los Angeles, as Joel Sherman of the New York Post writes.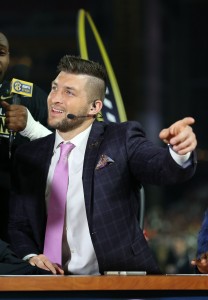 Tebow is slated to "run a 60-yard dash, catch fly balls with throws to the bases, take live batting practice, and then take batting practice against more advanced pitchers who will not tell him what is coming and will be trying to get him out." The 29-year-old insists that he is serious about his move to baseball and his representatives say that this is not a publicity stunt. Tebow is hoping to play as a major league outfielder despite not having played the sport full-time in more than ten years.
Tebow has been working with Chad Moeller to make the transition and the former MLB catcher believes that he can pull it off, despite the long odds.
"I am beyond impressed with Tim's athleticism and swing, and it goes without saying that he has shown a high level of discipline and strong work ethic," Moeller said earlier this month. "I see bat speed and power and real baseball talent. I truly believe Tim has the skill set and potential to achieve his goal of playing in the Major Leagues, and based on what I have seen over the past two months, it could happen relatively quickly."
The Florida product hasn't appeared in an NFL game since 2012, when he was a backup signal-caller with the Jets. Last offseason, he tried to make the Eagles' roster but Chip Kelly released him prior to the start of the season.
Photo courtesy of USA Today Sports Images.
Follow @PFRumors