Tim Tebow worked out in front of representatives of 28 different MLB teams on Tuesday and he didn't exactly look the part of a polished big leaguer. Tebow got "mixed reviews" after his audition on the USC campus, Jerry Crasnick of ESPN.com writes.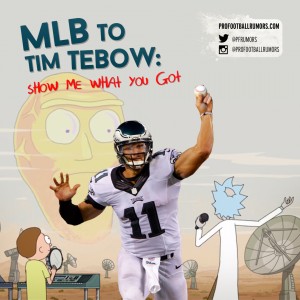 Tebow, 29, ran a solid 6.70-second 60-yard-dash and belted some long home runs in practice. However, he struggled to hit off-speed pitches from former big-leaguers David Aardsma and Chad Smith. Also, according to one scout who spoke to Crasnick, Tebow showed a below-average 40 grade arm on the 20-80 scouts scale – an especially poor showing for a former NFL quarterback. Even though Tebow did not have a great day on the field, he still insists that he is serious about his baseball pursuit.
"This isn't about publicity," Tebow said. "It's definitely not about money. I took a pay cut to do this. For me, you pursue what you love regardless of what else happens. If you fail or fall flat on your face, and that's the worst thing that can happen, it's OK. When did pursuing what you love become such a bad thing? I'll make all the sacrifices to be the best I can."
For what it's worth, Tebow understands that he has some work to do before he reaches the big leagues and he may even consider playing winter league ball in Latin America. If Tebow is indeed willing to leave the country to play baseball, one can't help but wonder why he was never willing to try and reignite his football career in the CFL.
Photo courtesy of USA Today Sports Images.
Follow @PFRumors