49ers quarterback Blaine Gabbert completed just 17 of 36 attempts and threw two interceptions in the team's 46-27 loss to the Panthers on Sunday. Niners receivers dropped five of Gabbert's passes, but head coach Chip Kelly still fielded questions about the signal-caller's job status Monday.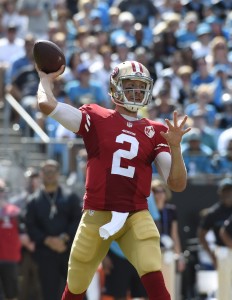 Kelly backed Gabbert, saying, "He's our starter, and I've got a lot of confidence in Blaine. We're not thinking or talking about not having Blaine in there. It's about everybody on offense playing better right now."
Kelly also left himself room to make an eventual change, per Ron Kroichick of the San Francisco Chronicle, as he said Gabbert had a "week-to-week" hold on the job. Gabbert, whom the Jaguars chose 10th overall in the 2011 draft, has experienced a disappointing NFL career and his play this year has been unremarkable. Before losing to Carolina, the 49ers easily disposed of the Rams, 28-0, in Week 1, but Gabbert's performance then wasn't great. Although the 26-year-old completed 22 of 35 attempts against the Rams, didn't throw a pick, and rushed for 43 yards, he only averaged 4.86 yards per pass.
In total, Gabbert has hit on 39 of 71 tries, put up a meager 5.82 YPA, and amassed three touchdowns against two picks. Gabbert ranks in the league's bottom five in completion percentage (54.9), YPA and passer rating (74.4). From at least a statistical standpoint, then, Gabbert hasn't looked like part of the solution in San Francisco. But even if the 49ers do want to replace Gabbert sooner than later, the quarterback he beat out over the summer for the starting job, Colin Kaepernick, doesn't seem physically ready to take over, as Kroichick notes. Surgeries Kaepernick underwent on his left shoulder, right thumb and left knee limited him in the offseason, and Kelly revealed Monday that the 28-year-old is still working his way up to his ideal playing weight of 225 pounds.
"Usually if you have a knee you can lift with your upper body, and if you have a shoulder you can lift with your lower body. But Kap was really out of the weight room for six-to-eight months," Kelly stated.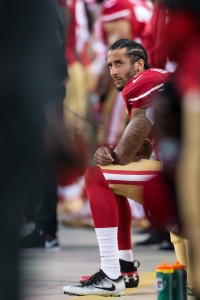 As of last week, Kelly and general manager Trent Baalke were divided on whether the team should retain Kaepernick, according to Jason Cole of Bleacher Report. Kelly would reportedly like to keep Kaepernick and help him turn into a formidable option again, while Baalke wants to cut ties.
Of course, for multiple reasons, Kaepernick isn't a run-of-the-mill backup. Before his play began trending downward in 2014, the dual threat helped lead the 49ers to a Super Bowl berth and a place in the NFC title game in his first year and a half as a starter. More recently, Kaepernick has become a polarizing figure on account of his decision not to stand for the pregame national anthem. In doing so, Kaepernick is protesting racial injustice in America, and his choice has spurred other NFLers to make similar pregame statements. The latest example: Several Eagles raised their right fists during the national anthem prior to their game against the Bears on Monday.
Photos courtesy of USA Today Sports Images.
Follow @PFRumors