There's discord between 49ers general manager Trent Baalke and head coach Chip Kelly regarding the future of quarterback Colin Kaepernick, according to Jason Cole of Bleacher Report (video link). Baalke wants to get rid of Kaepernick, while Kelly would like to keep the 28-year-old and help him develop into a quality option again.
Kelly drew career-best performances from signal-callers Nick Foles, Sam Bradford and Mark Sanchez during his tenure as Philadelphia's head coach from 2013-15. Along the way, however, Kelly was unable to coexist with the Eagles' top executive, Howie Roseman, so his disagreement with Baalke over the 49ers' most famous player is particularly notable.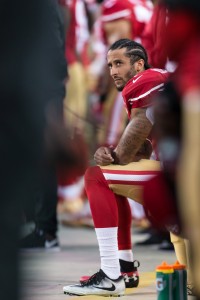 Kaepernick, who's making a guaranteed $11.9MM this year as part of a deal that runs through 2020, nearly exited San Francisco during the offseason. However, the Baalke-led 49ers and the team most interested in Kaepernick – the Broncos – weren't able to agree to a trade. That left Kaepernick to compete with Blaine Gabbert for the 49ers' starting job, but the latter won the role over the summer.
The majority of recent Kaepernick-related headlines haven't focused on his status as the 49ers' backup, though; instead, the decision he made during the preseason to no longer stand for the pregame national anthem has generated plenty of discussion, both in support of and in opposition to Kaepernick, and has led other NFLers to follow his lead. Kaepernick, who's protesting against racial inequality in America, has drawn ire from other teams' front office executives because of his choice, which could affect his value.
"I don't want him anywhere near my team," one front office executive told Mike Freeman of Bleacher Report last month. "He's a traitor."
That was a common sentiment among execs Freeman spoke to, as one estimated that upward of 90 percent of colleagues feel similarly.
On the field, Kaepernick has struggled over the past couple seasons after bursting on the scene as a second-year player in 2012. That season, the 2011 second-round pick from Nevada took over the 49ers' starting QB job from Alex Smith late in the campaign and helped lead the club to a Super Bowl berth. In 2013, his first full year as a starter, the dual threat impressed again en route to a 12-win season that ended with a 23-20 defeat to the eventual Super Bowl champion Seahawks in the NFC title game.
Kaepernick has fallen off since since his halycon days, but given Gabbert's own lack of NFL success – not to mention his propensity to run, which could lead to injuries – it's possible the former could once again take the reins as the 49ers' starter this season. Kaepernick got into the 49ers' 28-0 win over the Rams on Monday, misfiring on one fourth-quarter pass.
Photo courtesy of USA Today Sports Images.
Follow @PFRumors