Last offseason, the Bears continued their rebuilding process by shipping Brandon Marshall and a seventh-round selection to the Jets in exchange for their fifth-round pick. The Bears were looking to go younger, but the trade was also prompted by friction between the veteran and the Chicago front office. This week, Marshall opened up about the trade to Albert Breer of The MMQB.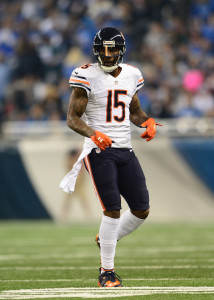 Marshall said that he wanted out of Chicago for two reasons. First, his relationship with quarterback Jay Cutler had deteriorated to the point where the two were no longer on the same page. Secondly, the Bears were upset about Marshall's foray into television and tried to 86 his role on Showtime's "Inside the NFL."
"When I sat down with [GM] Ryan Pace and coach John Fox, we met, and I asked, 'What do you guys think about this?' It was a big topic," Marshall said. "And Ryan Pace said, 'Well, we can do that in the offseason.' So I was like, 'Well, what about half the season?' 'No.' 'What about once or twice?' 'No.' 'What about bye week?' 'No, you can do that in the offseason.' Right then, I knew I wouldn't be a Bear anymore, because I think that the business of the NFL is growing every single day, and players are being told to stay in a box and just play football, and we're missing out on a lot of opportunities, not only to grow as men and businessmen but to experience different things."
This year, Josh Norman is pushing the precedent set by Marshall as he will appear on FOX during NFL Sundays. The cornerback also accepted the role without running it by head coach Jay Gruden or defensive coordinator Joe Barry.
Photo courtesy of USA Today Sports Images.
Follow @PFRumors