As Ryan Pace and John Fox met with Josh Sitton, 15 or 16 teams contacted the free agent guard, Sitton told Dan Wiederer of the Chicago Tribune.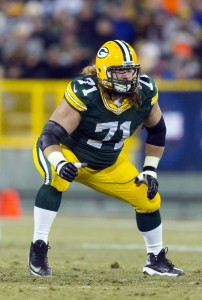 "Probably 15 or 16 teams called. Of the ones that were truly serious, there were probably four or five," Sitton said of the interest that accumulated during his visit with the Bears' brass.
GMs and coaches contacted 30-year-old guard, along with Kyle Long. Per Wiederer, both Fox and Pace did not give the longtime Packers mainstay the hard sell, instead pitching him what a guard tandem of he and Long would look like. Long, though, did make a more aggressive sales pitch. "He wasn't going to let up," Sitton told Wiederer.
However, Chicago's power structure did have to make their pitch quickly while seeing Sitton's phone buzz constantly.
But Sitton also did not want to leave the meeting without a deal, having made the 175-mile drive from Green Bay to Chicago on Sunday after quickly retrieving his belongings from the Packers' locker room following his Saturday release.
"I've seen what John has done with every team he has been at. He comes in and [turns] the program around. So I wanted to feel that this was a team on the rise," Sitton said of a meeting at a Chicago-area restaurant.
Sitton ended up signing for three years and $21.75MM and forms one of the league's top guard tandems, along with the recently extended Long. The Saints were probably another of the serious teams that contacted Sitton, but he did not leave the Chicago summit without a deal.
Photo courtesy of USA Today Sports Images.
Follow @PFRumors