After the Bills fired offensive coordinator Greg Roman on Friday, head coach Rex Ryan insisted that it was his decision. However, there were reports that team ownership actually spurred the move. Bills owner Terry Pegula dismissed that notion in a text message to the Associated Press on Monday, writing, "We do things together like any well run org would. Head coach runs the team and staff."
Pegula and his wife, Kim, did hold a meeting with members of the Bills' offense Friday. That meeting did not include Ryan, who reportedly wasn't pleased with his absence. He downplayed that Monday, though.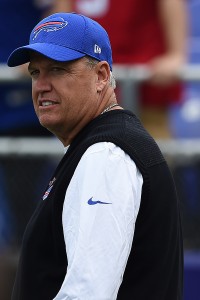 "That happens all the time," Ryan said of meeting between owners and players (via Mike Rodak of ESPN.com). "I feel fortunate that our owners — I mean, they talk to our players, they talk to everybody. I can tell you this: I'm in full support of our owners. At the end of the day, it really doesn't matter, does it? They own the football team. They don't have to get permission to talk to anybody, myself included. I have no problem with it whatsoever. In fact, I think it's a real positive thing for us."
Among the players at the meeting with the Pegulas was the Bills' top receiver, Sammy Watkins, who hasn't been much of a factor during the club's 0-2 start. While battling a foot injury, Watkins has amassed just six catches for 63 yards on 11 targets. The third-year man didn't reveal much about the meeting to the AP, only saying that it centered on ways for the entire team to improve.
A report Saturday indicated that Bills players are pleased with the dismissal of Roman, whom the team replaced with assistant head coach/running backs coach Anthony Lynn. One thing that won't change with Lynn is the language of the offense, according to Ryan.
"I think the spin on the offense is going to be immediate," he stated. "Some things that we'll do from a tactical standpoint, I think we'll see immediately. Change in the verbiage and playbook and all that stuff, we'll pull from the same playbook. There may be an occasional play here and there, but it's still gonna be — we're definitely keeping the verbiage and everything else that's already in place."
Under Lynn, the Bills hope to "showcase" quarterback Tyrod Taylor, Ryan said Friday. He also called Taylor a "rare talent." The Bills signed Taylor to a six-year, $92MM contract extension in August, but they'll be able to escape it relatively unscathed during the winter if they're unhappy with his performance.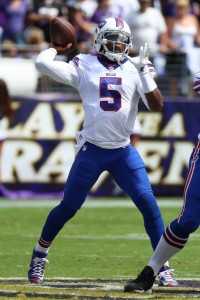 As of now, Taylor is the offense's biggest question mark, opines Rodak, who writes that his development now rests with Lynn. That could be a tall order for a longtime running backs coach who has never been at the helm of any other positional group or called plays. If Lynn gets more out of Taylor, he could turn himself into a sought-after head coaching candidate (he interviewed with multiple teams last winter), notes Rodak. Otherwise, the Bills could cut Taylor after the season. The Bills have until the third day of the 2017 league year, which will come in March, to decide whether to exercise a $15.5MM option that would trigger the 2018-21 seasons of Taylor's contract. Additionally, they'd guarantee him a $12MM base salary for 2017.
Taylor has acquitted himself well statistically since winning the Bills' starting job last summer, but there remain questions about whether he's more than a middle-of-the-road starter. Entering Week 3, the Taylor-led Bills rank 29th in the NFL in total offense and 22nd in points. After losing to the Ravens and Jets, which appear to be the two most beatable opponents on the Bills' schedule over the season's first four weeks, they're set to face a pair of Super Bowl contenders in the Cardinals and Patriots. Buffalo is staring at a potential 0-4 start, then, but the always confident Ryan views the schedule as a blessing in disguise for the club.
"You got [Cardinals coach] Bruce Arians this week, and you got [Patriots coach Bill] Belichick next week. So it's like, OK, there's a few more easier options than those two, but maybe this is exactly what we need."
The Cardinals lost to the Patriots in Week 1 before demolishing the Buccaneers, 40-7, on Sunday. The Pats are 2-0, though it's possible the Bills will face third-string quarterback Jacoby Brissett if Jimmy Garoppolo doesn't recover from his shoulder injury by then.
Photos courtesy of USA Today Sports Images.
Follow @PFRumors