The odds of the Raiders relocating to Las Vegas are increasing, according to Bleacher Report's Jason Cole, who hears that both Nevada Gov. Brian Sandoval and state Legislature will likely approve businessman Sheldon Adelson's $1.9 billion stadium plan (video link). Adelson's proposal calls for a record $750MM in public money, which would come from a hotel tax increase, as well as $650MM from him and another $500MM courtesy of the Raiders.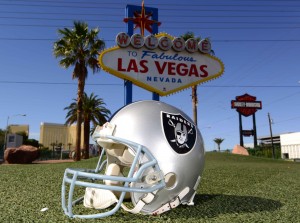 Cole's report comes a day after the Southern Nevada Tourism and Infrastructure Committee approved the use of $750MM in public money toward a stadium. That decision, which came after months of negotiations and a threat from Adelson's company to withdraw financial support, left Raiders owner Mark Davis optimistic about relocation.
"We are excited and thanks to the committee," Davis told USA Today in a text message.
One potential hurdle is whether the stadium vote comes before or after the Nov. 8 elections in Nevada, notes Cole, though he adds that it would take a "miracle" for the Raiders' relocation plans to fall through.
Andy Abboud, who's the vice president of government relations and community development of Adelson's company, Las Vegas Sands, said Thursday that the Raiders could have difficulty moving by next season if the Nevada Legislature doesn't hold a special session to vote on the stadium proposal before Nov. 8 (via Art Marroquin and Tom Spousta of the Las Vegas Review-Journal). Abboud's reasoning: The Raiders' relocation package would also require approval from the NFL in January, when they'd need 24 of the league's 32 owners to sign off on a move. Ray Ratto of CSNBayArea.com wrote Thursday that Davis isn't a lock to receive the necessary amount of support to shift his franchise to Las Vegas.
For its part, Oakland – where the Raiders launched in 1960 – is not "giving up," Mayor Libby Schaaf told Ratto on Thursday. The city isn't ready to commit nearly as much in public money to a new stadium as Vegas could, though.
"While Nevada lawmakers consider making the largest public investment in a private stadium deal in history by approving a $750MM public subsidy for a facility in Las Vegas, I will continue to work with the NFL and the Raiders' designee Larry McNeil to iron out a deal that works for the team, the league, the fans and the taxpayers in Oakland," Schaaf stated.
The Raiders' current facility, Oakland-Alameda County Coliseum, opened in 1966. The franchise called it home until 1981 and, after spending over a decade in Los Angeles, has played there since 1995.
Photo courtesy of USA Today Sports Images.
Follow @PFRumors