Initially, when Tony Romo went down with a back injury, the word was that he would be sidelined for six to ten weeks. Turns out, six weeks was a bit too optimistic as a best case scenario. Romo will be out for eight to ten weeks, a source tells Clarence E. Hill Jr. of the Star-Telegram.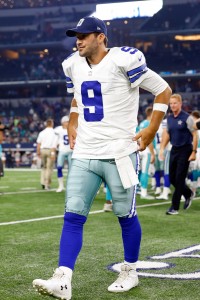 [RELATED: Cowboys Could Sign QB Austin Davis]
The new timetable means that the Cowboys will be leaning on rookie Dak Prescott for a bit longer than initially anticipated. It also effects how the Cowboys will handle Romo's absence from a roster perspective. Now that Romo is out for a minimum of two months, the team is more likely to use the IR/DTR designation on him to allow for a mid-season return.
Romo suffered a compression fracture to his L1 vertebrae and that must fully heal before he will be allowed to play. In 2014, Romo was able to tough it out and play through two transverse process fractures in his back, but that is considered to be less serious of a problem. Transverse process fractures are considered to be more like a muscle tear where as Romo's currently injury is more like a bone fracture.
"We're certainly getting our hands around it," Cowboys executive vice president Stephen Jones said of the roster decision on Wednesday, before the latest update on Romo's timetable. "We'll be needing to make that decision obviously sometime later in the weekend. Whatever we do with him, he'll need to be on our 53 when we cut it on Friday. So you've got to have him through the 53 cut before you can put him on designated to return, if we wanted to consider that. But it may be that we just keep him on the roster. We'll just see."
Photo courtesy of USA Today Sports Images.
Follow @PFRumors