Down goes J.J. Texans pass rusher J.J. Watt, the best defensive player in the league, is out for the season after aggravating a back injury. While Watt could technically return from injured reserve thanks to the NFL's new IR rules,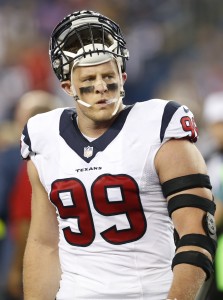 head coach Bill O'Brien ruled out that possibility. Watt underwent surgery earlier this seek, and should be a full go for the 2017 campaign. To replace Watt (using "replace" in the loosest sense of the word), Houston signed free agent defensive end Antonio Smith, who spent a good portion of his early career with the Texans.
And Sammy too. The Texans weren't the only club to lose a playmaker this week, as the Bills are now dealing with the absence of wide receiver Sammy Watkins, who was placed on IR as he continues to deal with a foot injury. It's the same issue that's hindered him dating back to May, and though a report back then labeled the ailment "minor," it's clearly been anything but. Watkins will meet with a specialist this week and is likely to require another surgery — if that happens, he'll miss the rest of the year for sure.
Josh Gordon won't be returning. The Browns are not only winless, but won't be getting their young receiver back in the fold as was supposed to happen. Josh Gordon,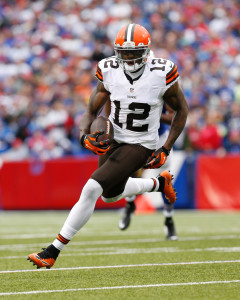 set to return from a four-game ban, is entering rehab as he tries to recover from an alcohol addiction. Clearly, any move to clean up his life should be lauded, but Cleveland has apparently seen enough, and is ready to part ways. The club had been trying to trade Gordon as recently as last week, but that likely won't occur now.
What's going on with Dez? Dez Bryant missed an MRI and team meetings last week, as he was reportedly fearing the worst in regards to his knee injury. The final report isn't that bad — he has a bone bruise and will miss a little time — but a report today indicated that this occurrence is the latest episode in Bryant's "pattern of irresponisble behavior." Both the Cowboys and Bryant's agents have tried to help him organize his life, but he's been repeatedly late or absent throughout his career in Dallas.
The last straw. Speaking of Cowboys (or rather, former Cowboys) with off-field problems, former Dallas defensive end Greg Hardy has likely ended any chance he ever had of returning to the NFL by being arrested on a drug charge. Interest in Hardy had dwindled to nearly nil, and now that he's been caught with a "group 1 controlled substance, he won't be back in the league. And given his previous transgressions, perhaps that's for the best.
Photos courtesy of USA Today Sports Images.
Follow @PFRumors