Naturally, the latest London game brought more discussion of where the NFL bringing a team to England on a full-time basis stands. When the subject of a London Super Bowl surfaced, Roger Goodell pumped the brakes on such a maneuver until the NFL has a team stationed in London, via James Palmer of NFL.com (on Twitter).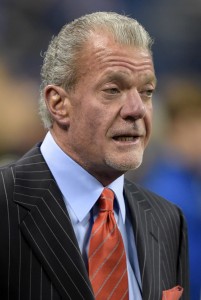 As far as the seemingly monumental task of relocating a team to London, or installing one there as an expansion outfit, more emerged on that front as well. Jim Irsay is in favor of a London team but notes it can only be a worthwhile venture if a forward-thinking owner runs it with an understanding of both the American and European market.
"That's my goal as an owner, to find the right owner and the right team to come here," Irsay told George Bremer of the Herald Bulletin (via Michael David Smith of Pro Football Talk). "… We look forward to having a permanent NFL team here."
Smith points out the NFL remains serious about a London team. Several owners believe this is the league's popularity apex in the states and the only way for the game to grow further would be a move overseas. While the right owner would help, it wouldn't solve the logistical issues that continue to plague it. This makes Gregg Doyel of the Indianapolis Star doubt this long-rumored London project will happen.
We heard in June the owners discussed this issue in-depth at a meeting, right down to what a playoff bracket would look like if a London trip was involved. But what did not come out of those meetings were how a London team would affect regular seasons and the players who uprooted to Europe to play for this hypothetical franchise.
Doyel doubts a London team could field the same kind of talent due to the life-changing relocation it would require and doesn't think the NFLPA would back the move, as it would have to. Additionally, Doyel points out the team's division mates would be at a disadvantage in having to make the trip annually — not to mention the actual London team's road games occurring between five and eight hours apart from its time zone, with only one bye week to help for restoration purposes.
"That would be tough," Colts defensive end Kendall Langford told Doyel regarding being on a London-stationed team. "It would be tough for me, especially when you have to go to the West Coast. (But) anything is possible in this league."
Nevertheless, this will continue to be a key topic in league circles, especially during weeks the league's London showcase opens its Sunday slate.
Photo courtesy of USA Today Sports Images.
Follow @PFRumors