Earlier this week, the Buccaneers scooped up troubled wide receiver Josh Huff by signing him to a practice squad deal. It turns out that he is getting paid a lot more than your average practice squad player, a likely indication that there was competition for his services. The Buccaneers are paying wide receiver Huff $31K/week to be a member of their practice squad, Field Yates of ESPN.com tweets. That's a solid paycheck, especially when considering that he was making $36K/week on the Eagles' active roster.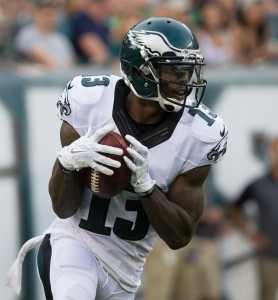 P-squad players make a minimum of $6,900 per week which comes out to just over $117K if that player is on the roster for the entire season. Taxi squad players also earn weekly paychecks during the playoffs, provided that the team makes it to the postseason. Huff's deal with Tampa Bay is worth nearly five times the league-mandated minimum wage, so one has to imagine that other teams expressed interest in him.
Huff found himself out of work following an arrest for a gun charge, speeding, and marijuana possession. It seems likely that he will face punishment from 345 Park Ave., but the league must wait for the legal process to play out a bit before doling out a suspension or fine.
In the interim, the Bucs are evaluating the Oregon product and a promotion to the 53-man roster may not be far off.
Photo courtesy of USA Today Sports Images.
Follow @PFRumors