Tony Romo has graciously accepted his new role as the Cowboys' backup quarterback, and some in the organization are now hoping he steps aside for good at the end of the season, reports Charles Robinson of Yahoo Sports. Even though injuries limited Romo to four games in 2015 and sidelined him for the Cowboys' first nine contests this season, there's no indication that the soon-to-be 37-year-old is considering retirement.
Longtime teammate and Hall of Fame-bound tight end Jason Witten indicated Wednesday that Romo's nowhere near done, saying, "I don't think he's planning on retiring anytime soon. I wouldn't bet against him" (Twitter links via Brandon George of the Dallas Morning News).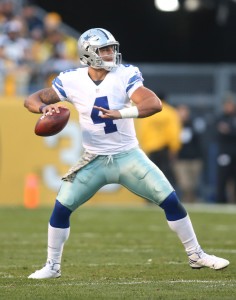 Witten added that "it hasn't entered anyone's mind" that Romo has taken his last snap as a Cowboy, but it's a possibility with the way rookie Dak Prescott has fared. Dallas has gone an NFL-best 8-1 with the fourth-rounder at the helm, and Prescott has been one of the NFL's most effective quarterbacks in the process.
In the first action of his pro career, Prescott has accounted for 18 touchdowns (14 passing, four rushing) against two interceptions and completed 66.8 percent of his 280 aerial attempts. Moreover, Prescott ranks third in the league in yards per attempt (8.35) and fourth in passer rating (106.2), yet some on the Cowboys' staff still expect the team to need Romo this season, according to Robinson. A team source told Robinson that four of the Cowboys' wins this year could have been losses, implying that luck has been on Prescott's side. While the Cowboys have gone 4-1 in one-score games this year, the source's critique would hold more weight if the Prescott-led club didn't have the league's best point differential (plus-88) and third-ranked DVOA backing up its record.
In the event Romo does take the reins back sometime this year – whether through an injury to Prescott or a dip in the 23-year-old's performance – it would provide much-needed closure to the organization, Robinson writes. By returning to the helm, Romo would answer on the field whether he or Prescott is the better man for the job at present.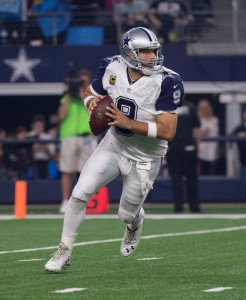 Of course, if Prescott continues to thrive, Romo's playing days in Dallas could indeed be finished. The Cowboys reportedly aren't considering a Romo trade, but if they do shop him during the offseason and don't find a taker, releasing him to collect $5.1MM in cap savings would become a possibility. If that happens, it's conceivable Romo could remain in the state and sign with the Texans, tweets Robinson (links here). However, Robinson notes that the Texans' cap situation would likely require Romo to take a significant pay cut compared to the $14MM salary he's scheduled to rake in next season.
The Broncos would also be in the mix for Romo, adds Robinson, though the Texans clearly have the bigger need. While Broncos starter Trevor Siemian has been mediocre in 2016, former Denver passer and current Texan Brock Osweiler has been an abject disaster in his first year in Houston. Osweiler, who received $37MM in guarantees from the Texans during the offseason, ranks last among 33 qualifying QBs in yards per attempt (5.61) and 31st in passer rating (74.1). The Texans have gone 6-3 in spite of Osweiler, which makes one wonder how much better they'd perform with a healthy Romo (not to mention J.J. Watt) in 2017.
Photo courtesy of USA Today Sports Images.
Follow @PFRumors