SUNDAY, 8:57am: Unlike Jones, Ian Rapoport of NFL.com believes Romo will not be suiting up for a game anytime soon, either in a starter's role or as a backup (article via Kevin Patra of NFL.com). Rapoport reports that Romo remains in the beginning stages of his return and has yet to fully participate in practices, as he has not even taken real team reps yet. So it may be that Jason Garrett will be able to put off his difficult decision for another couple of weeks.
SATURDAY, 9:54pm: His preseason recovery timelines pointing to this sector of the schedule for a return date, Tony Romo is set to be inactive against the Browns on Sunday. Dak Prescott will start the Cowboys' eighth game, but Romo might have already been plugged back in had Prescott floundered.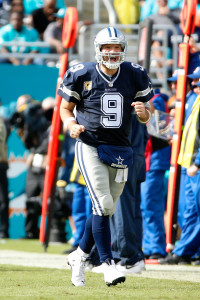 Jerry Jones, though, said the 36-year-old quarterback will suit up for a game soon. The owner categorizes Romo as being further along now than he was when he returned last November from his collarbone injury before reinjuring it in his second game back.
"He is ahead off where he came back and played last year," Jones said during a radio interview with 105.3 The Fan in Dallas (via Clarence Hill of the Fort Worth Star-Telegram). "We need to see more. There is no need to not see more. This is about need as it relates to winning a game."
The longtime owner said earlier this week the Cowboys will lean on the hot hand, Prescott, until Romo is fully ready to return. The fourth-round rookie being a far superior option to the inefficient Kellen Moore/Brandon Weeden/Matt Cassel troika of last season gives Dallas the luxury of being patient here. The Cowboys are 6-1 for the second time in three years and have the NFC's best record, with the NFL's lone winless outfit on deck.
Dallas has gone 78-49 in Romo starts since he took the reins from Drew Bledsoe in October of 2006. A four-time Pro Bowler, Romo threw for 34 touchdown passes compared to nine interceptions during his last healthy season, in 2014. Prescott has thrown nine TD passes compared to two INTs this season.
Romo is reportedly glad the Cowboys have found his presumptive successor after a lengthy time spent trying, but the the question will come soon as to which of these quarterbacks will be the backup as Dallas attempts to secure home-field advantage for the first time since Romo's first full season as a starter, 2007.
Photo courtesy of USA Today Sports Images.
Follow @PFRumors