Now that Tony Romo has formally conceded the Cowboys' starting quarterback job to Dak Prescott, it is time to speculate where Romo will be next season. It is possible, of course, that he stays in Dallas, and many pundits believe it would make plenty of sense for the Cowboys to keep him around. Ben Volin of the Boston Globe, for instance, says that given Prescott's athleticism and running ability, he will always run a heightened chance of getting hurt, and Romo would easily represent the best insurance policy in the game. Plus, as a fourth-round draft choice this year, Prescott's 2017 cap number is a meager $635K, and the Cowboys would eat $19.6MM in dead money if they were to cut or trade Romo next year.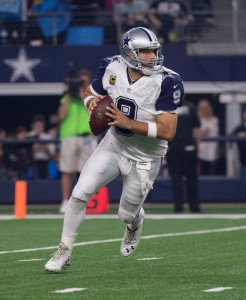 As Jason La Canfora of CBS Sports writes, Romo will talk with team owner Jerry Jones in the offseason, and the possibility that Romo returns to the Cowboys on a reworked contract is certainly on the table. Jones himself recently said, "I have no plans for [Romo] not to be a part of the Dallas Cowboys. Not a consideration." (Twitter link via Jon Machota of the Dallas Morning News).
There's nothing else that Jones, ever the politician, would say at this point. But if the Cowboys do seek to trade Romo in the offseason, La Canfora and Ian Rapoport of NFL.com confirm that there would be a pretty healthy market for his services. Earlier this week, we heard that some NFL executives believe the Cowboys could get as much as a second-round pick for Romo, though others are more bearish on his value. In any event, since Romo's contract would have to be renegotiated to make a trade work, he will have a great deal of say in where he winds up next season.
Rapoport hears that Romo "has his eyes on the Broncos" as a potential destination, assuming Denver determines that Paxton Lynch is not ready to go in 2017 and that Trevor Siemian is not the answer. The Cardinals also look like a strong possibility, and the Bears, Jets, and Bills could theoretically be interested in Romo if the circumstances are right.
And, although Jason Witten has recently stated that he does not believe Romo will retire anytime soon, Rapoport says that retirement remains a possibility, depending on how Romo's body feels. If he does choose to hang up the cleats, Rapoport believes Romo will continue to work in the Cowboys' organization in some capacity given his close personal relationship with the Joneses.
Photo courtesy of USA Today Sports Images.
Follow @PFRumors