The Cowboys insist that Tony Romo is still a part of their plans going forward, but that hasn't stopped speculation on whether Romo could be traded this offseason and what his price tag could be. Tom Pelissero of USA Today Sports checked in with a handful of NFL executives to gauge Romo's trade value and got a wide range of answers.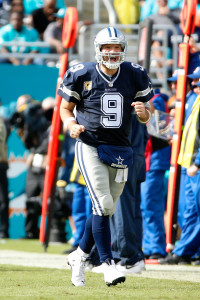 [RELATED: Cowboys Organization Torn On Romo, Prescott]
One GM feels the Cowboys could get as much as a second-round pick, provided that the Romo could pass a physical. Another executive predicted the Cowboys could ask for a second or third. Another said a third was the absolute max Dallas could get. Other responses ranged from a sixth-round choice to a conditional late-round pick.
"Imagine me going to [the owner] and saying, 'Listen, I'm going to make a trade for a 36-year-old that's got back issues that's a backup,' " one anonymous GM said. "He'd be like, 'You're crazy.' "
Of course, it's hard to peg Romo's value without having a good handle on his health or the quarterback landscape in the offseason. Romo's market would vary depending on which teams needed a quarterback and exactly how desperate they are. As I have noted before, this year's draft class is pretty thin at QB, and that could help the Cowboys' case if they choose to deal their one-time franchise star.
The executives mentioned the Jets, Broncos, Cardinals (if they were to dump Carson Palmer) and Bears as possible suitors. The 49ers need a QB, but as Pelissero notes, Romo isn't a great fit for Chip Kelly's offense.
Follow @PFRumors