In pulling out a 31-26 win over the NFC East rival Redskins on Thanksgiving, the Cowboys improved to 10-1 and became the first team in the NFL this year to reach double-digit victories. Most of Dallas' success has come thanks to an elite offense fronted by a dominant line and two sensational rookies – fourth-round quarterback Dak Prescott and first-round running back Ezekiel Elliott.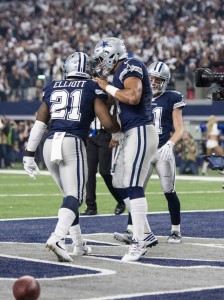 As those who pay any attention to the league know, Prescott was only supposed to be a temporary fill-in while Tony Romo recovered from an August back injury. The 23-year-old instead stole the four-time Pro Bowler's job and has combined for 23 touchdowns (18 passing, five rushing) against two interceptions. Thanks to Prescott's stinginess, the Cowboys are tied for first in the league in giveaways per game (0.6).
While Prescott's resounding early success has come as a shock, Elliott has been as advertised. The former Ohio State star went fourth overall because his greatness with the Buckeyes was supposed to transfer to the pros, which it has. Elliott entered Thursday as the league's rushing leader, and he increased his advantage over second-place DeMarco Murray – a former Cowboy – with a 97-yard performance. Elliott is now up to 1,199 yards on a league-high 243 carries, and he ranks second in the sport in rushing touchdowns (11).
With so much going for them on offense – including tight end Jason Witten, receivers Dez Bryant and Cole Beasley and, should something happen to Prescott, the league's premier backup QB (Romo) – it doesn't appear an attack that entered Thursday first in DVOA is going to fade down the stretch. The Cowboys' defense is another matter, though: While the unit has given up a fairly meager 19.4 points per game – good for 10th in the league – it's a distant 22nd in yards allowed per contest, and 25th in both DVOA and takeaways per game (0.9). Dallas' work against the pass has been especially problematic, and its ineptitude was on display when it allowed Redskins signal-caller Kirk Cousins to complete 41 of 53 passes for 449 yards and three touchdowns on Thursday. The Cowboys also failed to sack Cousins, and have taken down opposing QBs only 20 times.
One thing the Cowboys' defense has going for it – and one thing that helps explain the team's lack of points surrendered – is that it doesn't spend much time on the field. Dallas' offense leads the league in time of possession (33:12 per game), as Lorenzo Reyes of USA Today noted Friday, thereby taking even more pressure off a less-than-stellar defense. That formula has worked swimmingly so far, but it could backfire in the playoffs against a team like the 7-2-1 Seahawks – who rank in the league's top 10 in both offensive and DVOA and might stand as the Cowboys' top competition in the NFC.
The likes of the Patriots (8-2), Raiders (8-2) and defending champion Broncos (7-3) are among those that should also be in the discussion for the league's No. 1 team, though any of them would only serve as a hindrance to the Cowboys in a potential Super Bowl matchup. Having to face one of those teams this season would be a welcome task for Dallas, whose latest Super Bowl appearance came in a January 1996 win over the Steelers.
As things stand, the Cowboys are on track for a first-round bye in the postseason and home-field advantage throughout the playoffs. That indicates that they're the league's preeminent team, but do you fully buy into their nearly spotless record? Are they the current Super Bowl favorites?
Photo courtesy of USA Today Sports Images.
Follow @PFRumors