The future is now in Los Angeles. The Rams are starting Jared Goff on Sunday, according to Chris Mortensen of ESPN.com (on Twitter). The team informed Goff and previous starter Case Keenum in a meeting this morning.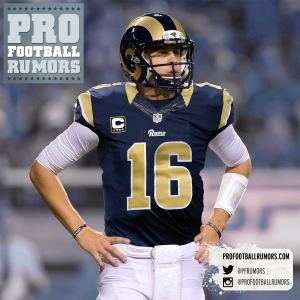 Over the weekend, it was reported that Keenum would likely be given the hook if he struggled against the Jets on Sunday. After the 9-6 victory, coach Jeff Fisher refused to blame Keenum for the unproductive offensive showing.
"I don't believe it's the quarterback play," Fisher said. "I think it's collectively. It's always a possibility when [Goff's] time comes. But I thought Case did a nice job."
Keenum didn't throw any interceptions against Gang Green, but he also didn't throw any touchdowns. Even though Fisher did not hammer Keenum for his play, it appears that the team is not content with treading water at the QB position. Goff is green, but it's not as though Keenum has been setting the world on fire with his play. The Rams will turn it over to the No. 1 overall pick with an eye on winning this season and evaluating their future.
Goff's first test comes against the Dolphins who have rebounded from a 1-4 start with a four game winning streak. They are now above the .500 mark, though they have allowed 364.3 yards per game to opposing offenses. In terms of pass defense, Miami has surrendered only 235.6 yards per game, which actually puts them in the top ten.
Photo via PFR on Instagram.
Follow @PFRumors