2:33pm: Although the Bengals aren't gunning for a playoff spot in Week 16 for the first time since 2010, the coaching staff still had Green embedded in its Week 16 game plan. This decision came down from ownership, Bob Holtzman of ESPN.com reports. "The rug got pulled out from under us," one source told the reporter, who characterizes some in the organization as being unhappy about this course of action.
Green still made the Pro Bowl but will finish 36 yards shy of his sixth 1,000-yard season in as many tries. Cincinnati, though, has Green signed through the 2019 season and evidently doesn't view these final two games of a lost season as worth the risk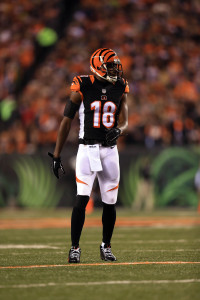 for its cornerstone skill-position player.
11:55am: Following news that Green would likely be shut down for the season, many assumed it was the Bengals' attempt at keeping Green out of harm's way as the organization switched their focus to next season.
Well, while that certainly holds merit, it may not be the entire story. NFL.com's Ian Rapoport tweets that Green doesn't only have a partially torn hamstring. The wideout has also suffered a partially torn tendon that is still healing.
8:57am: A.J. Green is out for tonight's game, and it sounds like the star wideout's season is over. ESPN's Adam Schefter reports (via Twitter) that Green will not play in tonight's game against the Texans, and he notes that the organization isn't planning on playing the wideout in either of the team's two remaining games. This is a bit of surprise, as we heard earlier this week that Green was planning on playing this weekend.
Green suffered a hamstring tear in late November, and initial reports hinted that the receiver was going to miss the remainder of the season. However, subsequent reports indicated that the tear wasn't as severe as initially thought, leading to some optimism that Green would see the field again this season. The wideout added more fuel to that fire with his quotes earlier this month.
"I want to get back," he said. "No matter what type of season we have, I'm not the type of guy to cash it in. So, whenever it's ready, I'll be ready to go. But, I'm not going to rush it because I'm not going to have this be a continuing issue."
If Green is unable to suit up for the rest of the season, he'll fall 36 yards short of his sixth-straight 1,000-yard campaign. In 10 games this season, the wideout hauled in 66 catches for 964 yards and four touchdowns. The Bengals have relied on wideouts Brandon LaFell and rookie Tyler Boyd during Green's absence.
The 5-8-1 Bengals have struggled through injuries this season, especially on the offensive side of the ball. Running back Giovani Bernard tore his ACL in late November, ending his campaign early. Tight end Tyler Eifert missed the team's first six games after struggling through ankle and back injuries, and the Bengals will be sitting the 26-year-old for tonight's game. To make matters worse, starting running back Jeremy Hill is listed as questionable for this evening's contest.
Photo courtesy of USA Today Sports Images.
Follow @PFRumors