A source told Manish Mehta of the New York Daily News on Wednesday that Jets cornerback Darrelle Revis is ready to walk away from football. The 31-year-old refuted that on Thursday, however, and has now dismissed the possibility of retirement twice since October.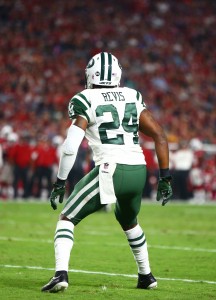 "I'm under contract until [2019] … I don't know what source said this or not. I'm playing football. That's what I'm here to do," said Revis (per Andy Vasquez of USA Today).
By retiring, Revis would forgo a $6MM guarantee from the Jets for 2017, which Vasquez notes is unlikely. Based solely on that, then, odds are the seven-time Pro Bowler and five-time first-team All-Pro will take the field next season.
As Revis mentioned, he does have three years remaining on the $70MM contract he signed with the Jets in March 2015. This could be his final go-around with Gang Green, though, as the club would save upward of $7MM on next season's cap by cutting him when the 2017 league year begins. Revis would otherwise carry a cap number in excess of $15.33MM next season, but he isn't ready to commit to a pay cut to remain in New York.
"We'll see. We'll see what happens next year. A lot of things going on, so we'll figure it out," he said.
The longtime elite defender is amid the worst year of his career, ranking 82nd among Pro Football Focus' 120 qualifying corners, and his stark decline has been unexpected after he surrendered a quarterback rating against of just 47.2 and intercepted five passes last season. Revis has started in all 10 of his appearances this year, but he hasn't picked off a pass and is on track for his first season without an INT since 2010.
Photo courtesy of USA Today Sports Images.
Follow @PFRumors