Jets cornerback Darrelle Revis will not hire an agent and will represent himself going forward, according to Brian Costello of the New York Post. Revis fired agents Neil Schwartz and Jonathan Feinsod in May 2016, and does not intend to replace them.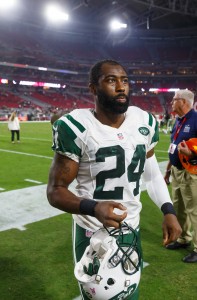 [RELATED: New York Jets Depth Chart]
"I'm not going to have representation," Revis said. "I feel through all the years I've learned a lot. Don't get me wrong … with all the craziness that is going on, me and my former agents have done some great things together. … At the same time, I had to move forward. I'll represent myself and go from there."
Revis is signed through the 2019 season, but that doesn't mean he won't be entering negotiations in the near future. Due $6MM in guaranteed salary plus a $2MM roster bonus in 2017, Revis is increasingly likely to face release — or at the very least, be asked to accept a pay cut — next spring. But despite the fact that he won't be guided by an agent, Revis is confident he'll be able to work out an agreeable solution with the Jets front office.
"I think the situation will be easier with whatever we need to discuss with this ballclub and me still being here," Revis said. "They definitely know I want to retire as a Jet. That was one of the first discussions of coming back here. That's still in play. They know that's dear to me. That's why I wanted to come back. I never wanted to leave."
Revis, 31, has started 10 games this season without registering a single interception, and most observers believe that he's posted the single worst season of his All Pro career. Among 120 qualified cornerbacks, Revis ranks just 82nd according to Pro Football Focus' grades, a far cry from his days of living near the top of that list. Despite those struggles, however, Revis has dismissed rumors that he's ready to retire once the season concludes.
Free agent offensive lineman Russell Okung notably acted as his own agent earlier this year, and ultimately negotiated a deal with the Broncos that contained no guaranteed money and was widely panned. Revis could be at risk of suffering a similar fate, though he has played the free agent game with more adroitness than perhaps any player in recent history, constantly maximizing his earnings.
One note: If Revis is released and becomes a free agent, he wouldn't be able to speak with interested clubs during next spring's legal tampering window. Only agents are allowed to contact teams during that three-day period, meaning Revis would have to wait until free agency actually opens before negotiating a contract.
Photo courtesy of USA Today Sports Images.
Follow @PFRumors