The Dolphins pulled out a last-second win over the Cardinals today, but despite that victory, Miami's playoff hopes have still taken a massive hit. Dolphins head coach Adam Gase told reporters that the club fears quarterback Ryan Tannehill has suffered a torn ACL, according to Armando Salguero of the Miami Herald (Twitter link).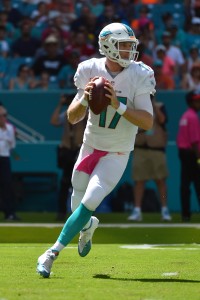 [RELATED: Dolphins Plan To Extend Jarvis Landry]
Heading into today's game, the Dolphins had something close to a one-in-five chance of earning a postseason berth — Football Outsiders gave Miami a 31.9% chance, while FiveThirtyEight put the Dolphins' odds at just 23%. Clearly, those figures will increase after Miami's win today (plus losses from other AFC contenders such as Denver and Indianapolis), but the club will now likely have to fight its way to into the tournament with its backup quarterback, Matt Moore.
Moore, 32, is one of the more experienced No. 2 signal-callers in the NFL, as he has 25 career starts under his belt. However, the last of those starts came during the 2011 campaign, so it's fair to wonder what Moore has left in the tank. That 2011 season was a high-water mark for Moore, as he threw 16 touchdowns and led Miami to a 6-6 record in 12 starts. In his small sample against Arizona today, Moore completed three of five passes for 40 yards.
With Moore under center, the Dolphins figure to lean even more heavily on their running game, which ranks third in the league in DVOA and features Jay Ajayi, who is now closing in on 1,000 yards on the ground. Additionally, Miami's passing attack isn't short on weapons, as Moore will be throwing to Jarvis Landry, DeVante Parker, Kenny Stills, and emergent tight end Dion Sims.
For Tannehill, the injury obviously marks a disappointing end to what can only be described as a middling season. So far in 2016, the 28-year-old Tannehill has posted numbers right in line with his career marks — through 12 starts, he'd completed 66.7% of his passes for 2,800 yards, 16 touchdowns, and 11 interceptions while ranking 25th in DYAR and 27th in DVOA.
Under the terms of a four-year extension signed in the summer of 2015, Tannehill is under contract with the Dolphins through the 2020 season. He's guaranteed $3.5MM of his $17.975MM base salary in 2017. Miami wouldn't be able to part ways with Tannehill while he's injured, and it likely wouldn't consider that route given the financial ramifications and the fact that the club showed progress under Gase this season.
Photo courtesy of USA Today Sports Images.
Follow @PFRumors