Rob Gronkowski was placed on IR yesterday, thereby ending his season and casting some doubt on his playing career. Gronk underwent successful back surgery on Friday, but that was his third operation to repair a herniated disc. As Ian Rapoport of NFL.com writes, "Gronkowski herniated his L5-S1 disc while in college in 2009, his L4-5 disc in 2012, and the latest discectomy is almost certainly a reherniation of the L5-S1 disc, given the tingly feeling he experienced through his back and legs."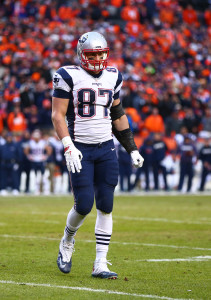 The injury is not expected to be career-ending, but assuming Gronkowski does continue playing, he may have to battle through pain for the remainder of his career. At a certain point, he will need to determine how much of an impact taking the field will have on his post-football life, and that determination can only come after difficult conversations with his family, agent, and teammates.
Gronkowski is under contract through the 2019 season at a relative bargain. As Ben Volin of the Boston Globe writes, Gronkowski had some leverage to demand a new contract this past offseason, and despite rumblings that he was unhappy with his current deal–along with some contract talks between the club and agent Drew Rosenhaus–he ultimately did not hold out or exert any sort of pressure on the New England front office. Now, of course, he has no leverage, and although he is scheduled to be paid $19MM over the last two years of his deal, that payout includes no guaranteed money. So while there is no reason for the Pats to move on from Gronk before they give him a chance to reestablish himself in 2017, his long-term future with the club is uncertain.
The Patriots have never considered trading Gronkowski, and his health situation precludes both trade discussions and contract talks for the time being. He potentially could have played in six to eight weeks, but he would not have been himself for a few months, and it made more sense for him to focus on rehab and assure himself, to the extent possible, that he will be ready to go in 2017.
Photo courtesy of USA Today Sports Images.
Follow @PFRumors