No miraculous late-January or Super Bowl LI return for Rob Gronkowski will be in the cards this season. The Patriots placed their superstar tight end on IR, ending his seventh NFL season, Field Yates of ESPN.com reports (on Twitter).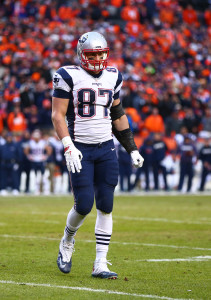 New England moved running back D.J. Foster back to the active roster, per Yates (Twitter link). The team already used its IR-return slot on third-string quarterback Jacoby Brissett.
This doesn't come as a shock after the joint statement released by the Patriots and the tight end's family pointed to the 27-year-old perennial All-Pro being shelved for the season after back surgery. Gronkowski aggravated his perpetual back issue against the Jets last weekend, and the consequences give the Patriots a higher degree of difficulty in their hopes at a second Super Bowl title in three years.
It's been another injury-marred season for Gronkowski, who has missed time due to hamstring, chest and now back maladies. Gronk played in eight games this season but only saw extensive action in six of those contests. He'll wind up missing eight games in 2016, upping his career total of game-day absences to 24. The three-time All-Pro had missed just two games combined over the past two seasons.
Gronkowski will finish with the highest yards-per-reception figure of his career to date, having posted a 21.6 number here — a small sample size, obviously, but one that's 5.3 higher than his previous career-best mark of 16.3 during 2015. This will also be just the second season the league's consensus top tight end will finish with fewer than 10 touchdowns. He scored three times this season.
The Patriots advanced to Super Bowl XLVI with an ailing Gronkowski, who sprained his ankle in that year's AFC championship game, but fell short the following two years after a broken forearm and tears of his ACL and MCL either limited or removed Gronk in the following two seasons' AFC playoff brackets. His health the past two seasons helped New England to its fourth Super Bowl title, in 2014, or brought the team to the precipice of a title defense. Gronkowski's dominant finish in the most recent AFC championship game nearly forced overtime in a narrow loss to the Broncos.
Tom Brady's numbers decline sharply without Gronkowski available. With Gronkowski since his 2010 arrival, Brady's completed 65 percent of his passes and boasts a 103.5 quarterback rating. In the 17 games in that span Brady's played without his potential Hall of Fame tight end his completion percentage drops to 57 percent, with his rating plummeting to 84.4. So, this could shake up the AFC playoff picture. Of course, New England employs a better backup tight end than it did previously, which should soften the blow.
Martellus Bennett will now have a prime chance to score a big free agency payday in ascending to the Patriots' No. 1 tight end role. New England did not have a similar answer in previous years when Gronk went down.
Photo courtesy of USA Today Sports Images.
Follow @PFRumors