As signs continue to point to the Chargers moving to Los Angeles, San Diego is making an attempt to keep the only NFL team it's housed.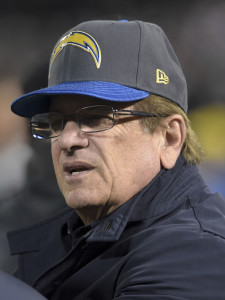 Dean Spanos met with San Diego mayor Kevin Faulconer on Wednesday as the sides attempt to exhaust all options to keep the team in the city after the Chargers' Measure C — for a downtown stadium — fell well short of the threshold needed to secure public money. Faulconer and County Supervisor Ron Roberts appear to have put forth a compromise measure, however.
The local politicians have made an offer to the Chargers for a stadium near their current Mission Valley, Calif., site for $350MM in public money, Tom Krasovic of the San Diego Union-Tribune reports. This is, of course, subject to a vote just as the downtown stadium initiative was in November. But with talk the Chargers will bolt for Los Angeles to share a stadium with the Rams continuing, this represents an effort from the city, one as Krasovic points out is $150MM higher in terms of public funding than Oakland's recently offered for the last-ditch Raiders venture.
Aside from a meeting with Spanos this week, Faulconer met with another Chargers official and talks are expected to continue. The Bolts' lease at Qualcomm Stadium runs through 2020, and the team turns a profit while playing there, per Krasovic. So, might they be willing to continue playing there while this plays out? Or would the resounding defeat at the ballot box induce Spanos to eschew this latest development and take the NFL's relocation offer by January? Prospective contributions from the Chargers and the NFL for this latest stadium effort are not yet known.
The Chargers have until January 15 to decide on this current Los Angeles option — although, there could be an extension, especially with the Raiders connected to Las Vegas — and Spanos said no decision will be made until after the season. But just 43 percent of San Diegans voted for the current stadium, which centered around a hotel tax, when a two-thirds majority was required. Although the Chargers and the city would have more time to promote the next stadium proposal if it comes to that, there's still a lot of ground to cover with voters who have come out on the other side of this issue.
Last week, Jim Trotter of ESPN.com reported it would "take a miracle" for the Chargers to stay in San Diego despite reports previously linking the team to continuing to play in San Diego in 2017. The Chargers and Rams continue to make progress on an agreement that would permit the Bolts to share the $2.6 billion stadium in Inglewood, so the Bolts are busy on multiple fronts as another season figures to end shy of playoff qualification.
Photo courtesy of USA Today Sports Images.
Follow @PFRumors