SUNDAY, 10:05am: ESPN's Adam Schefter confirms that the Giants are expected to be fined for the walkie-talkie incident, but he reports that Big Blue is not expected to lose a draft pick for the infraction. Officials from rival clubs, according to Schefter, do not believe a fine is sufficient punishment. McAdoo has declined to provide further details.
SATURDAY, 10:35am: The NFL is planning to fine the Giants for the use of walkie-talkies on the sideline during last weekend's win over the Cowboys, reports Michael David Smith of ProFootballTalk.com. The writer notes that there's uncertainty whether the NFL will resolve the fiasco "quickly and quietly" or launch a "full-blown investigation."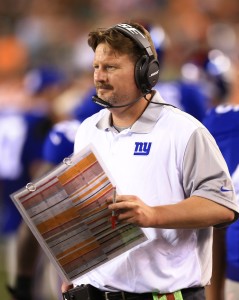 The issue started during Sunday's game against Dallas, when the "coach-to-quarterback system" malfunctioned, preventing quarterback Eli Manning from receiving play calls from coach Ben McAdoo. To resolve the issue, McAdoo used a walkie-talkie to communicate to Manning, which is against NFL rules. The league prevents coaches from communicating with their quarterbacks when there are less than 15 seconds remaining on the play clock, and a walkie-talkie would presumably prevent the NFL from monitoring the situation. Coaches are also not allowed to hold two-way radios during a game, although backup quarterbacks are curiously allowed to have one.
After the game, the Cowboys asked the league to investigate. Dallas hasn't filed a formal complaint, reports ESPN.com's Jordan Raanan, but the NFL decided to launch their own investigation.
"Start off by talking about the walkie-talkie incident in the game," McAdoo said on Friday (via Raanan). "We've touched base with the league, we're working through it right now. I don't have anything to add, but we are working with the league on the incident."
This specific violation is a bit unprecedented. In 2015, former Browns general manager Ray Farmer was suspended four games for sending text messages to the coaching staff during games. Meanwhile, the Falcons were fined $350K and lost a fifth-round pick for a similar violation.
Photo courtesy of USA Today Sports Images.
Follow @PFRumors