Broncos head coach Gary Kubiak is likely to step down, according to ESPN's Adam Schefter, largely due to health concerns. Troy E. Renck of Denver7 confirms the report.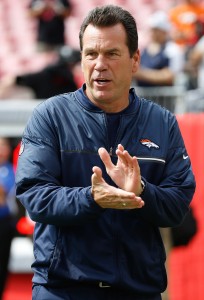 Kubiak, the long-time Texans head coach, was fired by Houston towards the end of the 2013 season, and he enjoyed a successful one-year stint as the Ravens' offensive coordinator in 2014 before his dream job became available. In January 2015, Kubiak signed a four-year contract to become head coach of the Broncos, and his first year at the helm ended in Super Bowl triumph.
This year, of course, has not gone as well, as Denver's offense sputtered under the inexperienced hands of Trevor Siemian and Paxton Lynch and the team gradually fell out of playoff contention. But Kubiak's job was certainly not in jeopardy, even if, as Mike Klis of 9News tweets, several of the Broncos' offensive coaches were likely to be dismissed.
However, as Schefter writes, the demands of the job have become too risky for Kubiak. The 55-year-old left the Broncos for a week in October and missed a Thursday night game in San Diego for what the team called a "complex migraine condition." And in his last season as Houston's head coach, he suffered a mini-stroke during a game and had to be rushed to the hospital.
It remains unclear whether Kubiak's decision to step down means that he is also retiring for good. Ian Rapoport of NFL.com reports that Kubiak is "heavily weighing" retirement, and Schefter's report concludes by saying that Kubiak's family wants him to leave coaching and move to their retirement ranch in Texas. But Albert Breer of The MMQB says that Kubiak had "found contentment" as Baltimore's offensive coordinator in 2014 and was unsure that he wanted the stress of being a head coach again, but he was unable to resist the pull of the Denver job (Twitter links). That suggests, perhaps, that Kubiak would consider returning to the NFL in some other capacity down the road, although the fact that his legacy is now secure as a Super Bowl-winning head coach could make such a return less plausible (for what it's worth, Klis tweets that Kubiak did not appear to suffer a recent setback and could simply need a "break" from the job).
Klis (Twitter links) names Broncos special teams coordinator Joe DeCamillis as a logical choice to replace Kubiak, along with Raiders offensive coordinator Bill Musgrave. But the Denver job is arguably the most desirable one available this offseason, so GM John Elway should have plenty of options.
Kubiak has an 81-75 regular season record as a head coach, a 5-2 postseason record, and one Super Bowl win.
Photo courtesy of USA Today Sports Images.
Follow @PFRumors