As expected, the Chargers have announced the dismissal of head coach Mike McCoy, whose job status was in serious jeopardy earlier Sunday. Chargers president of football operations John Spanos issued in a statement in the wake of McCoy's firing.
"Mike McCoy is a man of high character, and we thank him for his dedication to the Chargers," said Spanos. "The decision to dismiss Mike was made in the best interests of our franchise. Our team's disappointing performance has not matched this team's potential and has fallen short of the demanding standards that we seek to impose throughout our organization. Our comprehensive search for a new head coach begins immediately."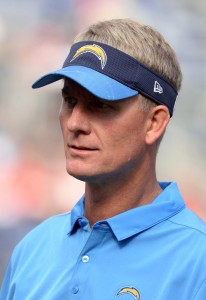 The Chargers lost the final game of the McCoy era, 37-27, to the AFC West rival Chiefs in Week 17. That ensured San Diego a 5-11 finish – only a slight improvement over its 4-12 showing in 2015 – and gave McCoy a 27-37 record in four seasons as the club's head coach.
Before the Chargers' downward spiral over the past couple years, the McCoy-led team racked up a pair of nine-win seasons and made a playoff trip in 2013. Part of the problem this season was the fact that the Chargers lost 21 players to injured reserve, but that wasn't enough to save McCoy's position with the franchise. It certainly didn't help that the Chargers suffered an ignominious loss in Week 16 to the Browns, who finished the year 1-15.
With Los Angeles relocation likely for the Chargers, they're reportedly willing to expend resources in their search for a head coach. The Bolts will have plenty of competition from around the league – they're now the fifth team with a vacancy, and a sixth could join the fray if the 49ers dismiss Chip Kelly.
Photo courtesy of USA Today Sports Images.
Follow @PFRumors