Randy Gregory is changing agents, a family member tells Ian Rapoport of NFL.com (on Twitter), and that process could help him stay on the field for the postseason. Gregory was scheduled for an appeal hearing today (Tuesday), but his lack of representation could result in a postponement. If the hearing is delayed, that could drag out the process and leave us even further from a resolution to his case. And, if he continues to stay in limbo, that could mean that he is free to suit up in the playoffs.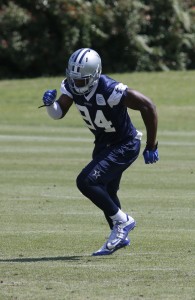 [RELATED: Follow Pro Football Rumors On Instagram]
The agent dropped Gregory and not the other way around, a source tells Clarence Hill Jr. of the Star-Telegram (on Twitter). However, it went down, the net effect is likely the same: Gregory has a right to a representative in an appeal hearing and it sounds like he can effectively stall until a new rep is in place.
The Cowboys, of course, have a first-round bye. Gregory hopes to be in uniform for Dallas when the divisional round gets underway.
Photo courtesy of USA Today Sports Images.
Follow @PFRumors