Free agency is looming for wide receiver Kenny Stills and defensive end Andre Branch, but the Dolphins are going to work hard to lock the two up before March. The club will meet with the representatives for both players at the Senior Bowl in Mobile, Ala., this week in an attempt to set "a baseline starting point in negotiations," according to Armando Salguero of the Miami Herald.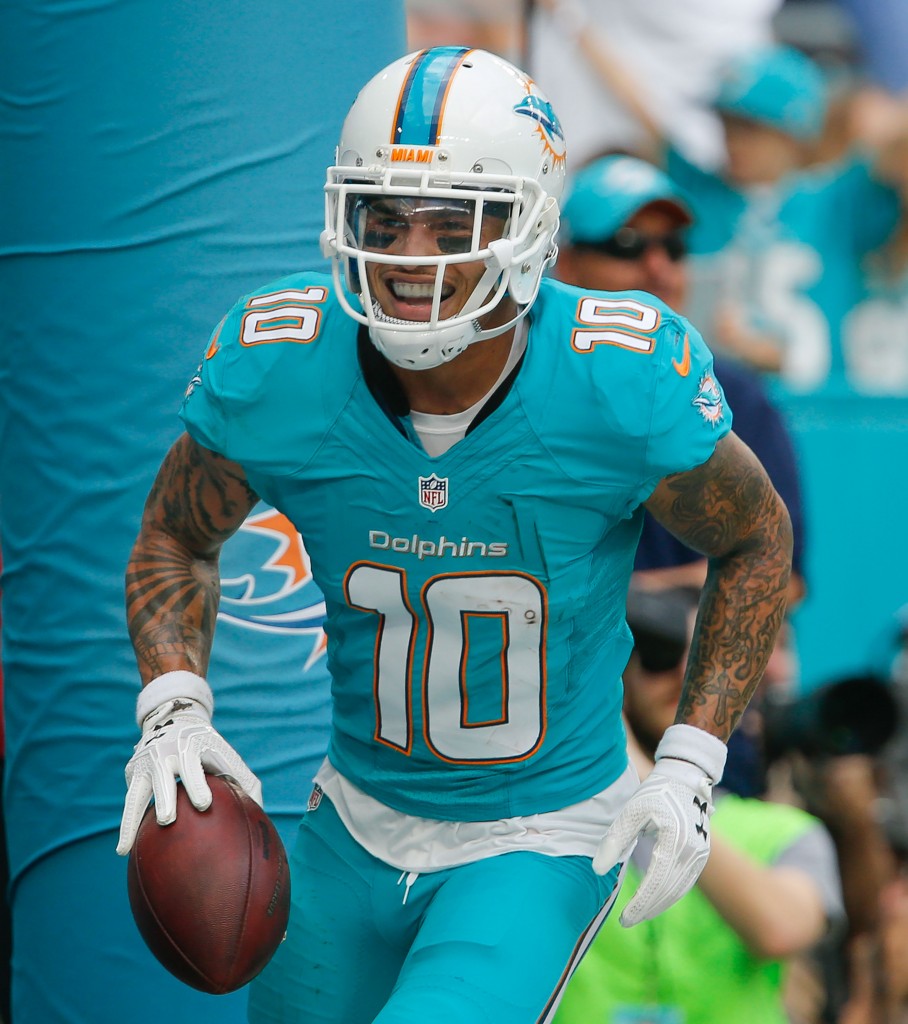 [RELATED: Surgery For Ryan Tannehill?]
"We want to keep our own," executive vice president Mike Tannenbaum said. "We're never going to bat a thousand. The system just is not set up for it. We've been able to extend some players before I started — some like Mike Pouncey or Ryan Tannehill we were able to do — but candidly, you can't keep them all. We understand that and acknowledge that.
Both Stills and Branch are coming off productive seasons, and each has professed a "love" for the Dolphins since the team's season ended. In the first 16-start campaign of his four-year career, Stills, 24, averaged a club-high 17.3 yards per catch on 42 receptions and also led the Dolphins in touchdown grabs (nine). The 27-year-old Branch set a career high in starts (11) and posted 5.5 sacks – his second-best total since entering the NFL in 2012 – after inking a modest free agent deal to leave Jacksonville last March.
On Stills, who joined the Dolphins in a 2015 trade with the Saints, general manager Chris Grier stated: "It's important for us to bring him back. We'd like to have him back. It's his right to test the market and see what he can get, but we'd like to have him back."
As with Stills and Branch, the Dolphins would like to re-sign soon-to-be free agent tight end Dion Sims, reports Salguero. Sims is less of a priority than Stills and Branch, however, and it's unclear if his reps will meet with the Dolphins in Mobile. The 25-year-old logged personal bests in receptions (26) and TDs (four) during his 14-game 2016. He averaged under 10 yards per catch, though, leading to the possibility that the Dolphins could look for a better playmaking tight end this offseason.
In danger of losing each of Stills, Branch and Sims within the next couple months, the Dolphins aren't yet focusing on extensions for wideout Jarvis Landry or safety Reshad Jones, per Salguero. Those two cornerstones are already under contract for next season, so there's less urgency for Miami to determine their futures. While Salguero expects the Dolphins to ultimately ink Landry and Jones to new deals, talks haven't yet begun. Indeed, Grier revealed Wednesday that "we'll worry about the guys right now with the immediate free agents and then we'll start working towards the guys that are still under contract."
Photo courtesy of USA Today Sports Images.
Follow @PFRumors