Now that the regular season is over, we're chatting with beat writers from around the league to gain insight on each team's offseason and how those moves will impact the season ahead.
This week, we caught up with Chris Tomasson of the St. Paul Pioneer Press to discuss the Vikings. You can follow Chris on Twitter @christomasson and check out his stories here.
Zach Links: The Vikings have already anointed Sam Bradford as their 2017 starter. Meanwhile, Teddy Bridgewater's timetable for return is uncertain and the Vikings must decide on his 2018 option by May 2nd. How do you think they'll handle the $12.5MM decision?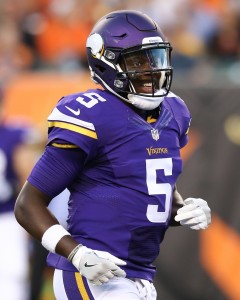 Chris Tomasson: It's a very difficult question to answer since the Vikings know far more about the severity of his injury than they have let on. There would be some surprise from my end if the Vikings don't pick up the option since it is guaranteed only in the event of injury, and it would have to be a new injury that would guarantee it. Even if Teddy Bridgewater can't play in 2017, when he has a cap number of $2.18MM, picking up the option could buy time for them to assess his recovery. If the Vikings pick up the option, the big issue could come in March 2018 when the Vikings might have to make a final determination on their quarterback of the future. They can't pay two quarterbacks a combined total of $30MM or more. At that point, Bridgewater could be released or asked to sign a deal for a lesser figure as a backup.
Zach Links: Recently, Adrian Peterson hinted that he might be open to a pay cut. Do you think he's ready to take the kind of haircut the Vikings probably have in mind? Wherever he winds up, do you think he can resume playing at a high level?
Chris Tomasson: I think it will depend on what other teams might be willing to offer and how those teams stack up against the Vikings regarding a chance to win a Super Bowl. The Vikings stood by Peterson during his child-abuse situation and coach Mike Zimmer wants him back, so I wouldn't be surprised if they look to bring him back. I don't think Peterson is a 1,500-yard-type back anymore, but I think he could gain 1,000 yards for someone. I think he might have to accept a reduction in carries, wherever he might play.
Zach Links: Do you think pending free agent Cordarrelle Patterson will be back with the team next year? Do you see him moving forward as a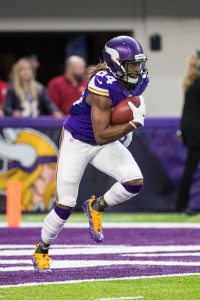 kick return specialist or do you think he can fulfill his potential as an all-around wide receiver?
Chris Tomasson: I think Patterson got enough work at wide receiver this season that he will seriously consider a Vikings offer to return. I would be surprised if another team offered him a big deal to be a starting-caliber wide receiver. While much of it was a product of Minnesota's short passing game, he averaged just 8.7 yards on his 52 catches. He has said he wants to return to Minnesota, and all I can do is take him at his word.
Zach Links: He's stayed mum on the subject, but do you expect to see 38-year-old Terence Newman return to the Vikings in 2017?
Chris Tomasson: Terence Newman still can play, there's no doubt about it. He told me that to return, there has to be certain conditions met, some that are in his control and some that are out of it. He wouldn't tell me what they are. I wouldn't be surprised, though, to see Newman back considering he has remained healthy and no serious slippage was evident in 2016. However, I'm sure if he were to return, his snaps would be cut back considering the continued maturation of Trae Waynes.
Photo courtesy of USA Today Sports Images.
Follow @PFRumors