As Ian Rapoport of NFL.com reported over the weekend, the Raiders have filed relocation papers to move from Oakland to Las Vegas. The Mark Davis-led Raiders will now need to receive approval from 24 NFL owners to relocate, and that vote will likely take place in March.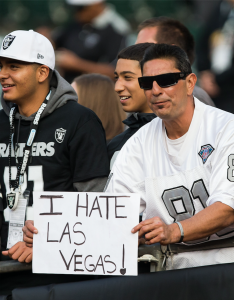 The city of Oakland made "no progress" in retaining the team, Rapoport noted, and few believe that their proposal for a new stadium is "credible." The Raiders have been looking to move out of Oakland Alameda Coliseum, their home from 1966-1981 and again since 1995, but they'll spend the next two seasons there even if the league approves their move, according to Paul Gutierrez of ESPN.com.
As the Raiders continue in Oakland for a couple more years, construction will preumsably get underway on a Las Vegas stadium sometime soon. The Raiders have a $1.9 billion proposed facility in the works, but $650MM of that is supposed to come from casino magnate Sheldon Adelson. There have been bumps in the road in negotiations between him and the Raiders, so it's unclear whether Adelson will be part of the plan. The rest of the money will come from the the Raiders ($500MM) and a record in public money ($750MM) via hotel room tax revenue. The Raiders have also suggested a plan that would allow the team to finance a new stadium via Goldman Sachs advisors.
For what it's worth, Rapoport noted previously that the league's owners aren't as opposed to the idea of the Raiders going from Oakland to Vegas as originally anticipated. The plan is "making progress and gathering momentum," which should be good news to Davis.
The Chargers announced their move from San Diego to Los Angeles last week, which came a year after the Rams relocated from St. Louis to LA. The Raiders departing their longstanding home would further shake up the league.
Photo courtesy of USA Today Sports Images.
Follow @PFRumors