In advance of March 9, the start of free agency in the NFL, Pro Football Rumors will detail each team's three most glaring roster issues. This year's series continues with the Rams, whose second act in Los Angeles began horrifically this season. The Rams sputtered to a 4-12 showing, which led to the in-season firing of the embattled Jeff Fisher and the postseason hiring of the youngest head coach in the modern era, 31-year-old Sean McVay.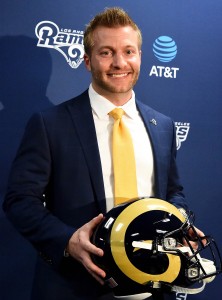 Previously a successful offensive coordinator with the Redskins, McVay is inheriting a 22-year-old quarterback, Jared Goff, who underwhelmed as a rookie after the Rams traded up to select him first overall in the draft. The Rams don't have either a first- or third-round pick this year because of that trade, which is a painful reality for a franchise that would have otherwise chosen fifth overall. Goff could begin to realize his vast potential under McVay, of course, and that would make the deal much easier to accept.
As the Rams wait to see how the two wunderkinds will fare in Year 1 of their partnership, their Les Snead-led front office will work to improve a roster that scored the fewest points and allowed the third-highest total in the NFL in 2016.
Depth Chart (via Roster Resource)
Pending Free Agents:
Kenny Britt, WR
Blake Countess, S (ERFA)
Benny Cunningham, RB
Dominique Easley, DT (RFA)
Isaiah Johnson, S (ERFA)
Trumaine Johnson, CB
Case Keenum, QB
Matt Longacre, DT (ERFA)
Brian Quick, WR
Chase Reynolds, RB
Cam Thomas, DE
Louis Trinca-Pasat, DT (ERFA)
Trey Watts, RB (RFA)
Ethan Westbrooks, DT (RFA)
Greg Zuerlein, K (UFA)
Top 10 Cap Hits For 2017:
Current Projected Cap Room (via Over the Cap): $40,203,030
Other:
Three Needs:
1.) Repair the offensive line: If you're building around youth at quarterback and running back, two places the Rams have invested heavily over the past couple years, common sense says you should possess a strong group of blockers. That wasn't the case in 2016 for the Rams, whose offensive line graded as Football Outsiders' fourth-worst group and Pro Football Focus' sixth-worst unit. Only lowly Cleveland allowed more sacks than Los Angeles (49), whose rushers posted the league's 10th-lowest yards-per-carry mark (3.9). Dual-threat wide receiver Tavon Austin drove up the latter figure, averaging 5.7 yards on 28 rushes. The Rams' actual backs, including 2015 rookie sensation Todd Gurley, were far less impressive. Gurley shockingly stumbled to a 3.2 YPC – down 50 percent from his 4.8 the prior season – on 278 attempts and failed to eclipse the 85-yard mark in any of his 16 games. He certainly isn't blameless for his dreadful second season, but it's clear he and Goff need more support up front.
While the Rams are fine at left guard (Rodger Saffold) and right tackle (Rob Havenstein), they'd be wise to seek upgrades along the remainder of the line. That includes left tackle, where Greg Robinson has busted since going second overall in the 2014 draft. It's doubtful the Rams will move on this offseason from Robinson, as he's still young (24) and will be on their books at his full cap hit ($6.77MM-plus) even if they release him. They'll surely decline his fifth-year option for 2018, however, and ought to look for a starting-caliber replacement for at least next season. Unfortunately, neither free agency nor the draft will brim with blindside options this offseason.
The open market's top solution could be the Bengals' Andrew Whitworth, who's stellar but also aging (35). Otherwise, tackles scheduled to reach free agency include less capable protectors like Riley Reiff (Lions), Matt Kalil (Vikings) and Luke Joeckel (Jaguars). As is the case with Robinson, both Kalil and Joeckel have been letdowns since their respective teams used top five picks on them in recent years, though it might be worth pointing out that Kalil is a California native who formerly thrived in the Rams' temporary stadium, the LA Coliseum, as a member of the USC Trojans. Past success aside, he's certainly not a premier blocker these days.
In the event the Rams wait until the draft, where they're scheduled to pick 37th, they could end up in contention for any of Wisconsin's Ryan Ramczyk, Utah's Garrett Bolles or Alabama's Cam Robinson. All three tackles currently reside in the top 50 prospect rankings of draft gurus Daniel Jeremiah (NFL.com) and Matt Miller (Bleacher Report).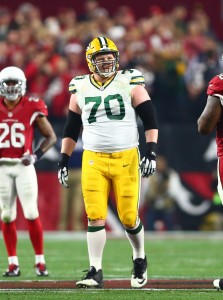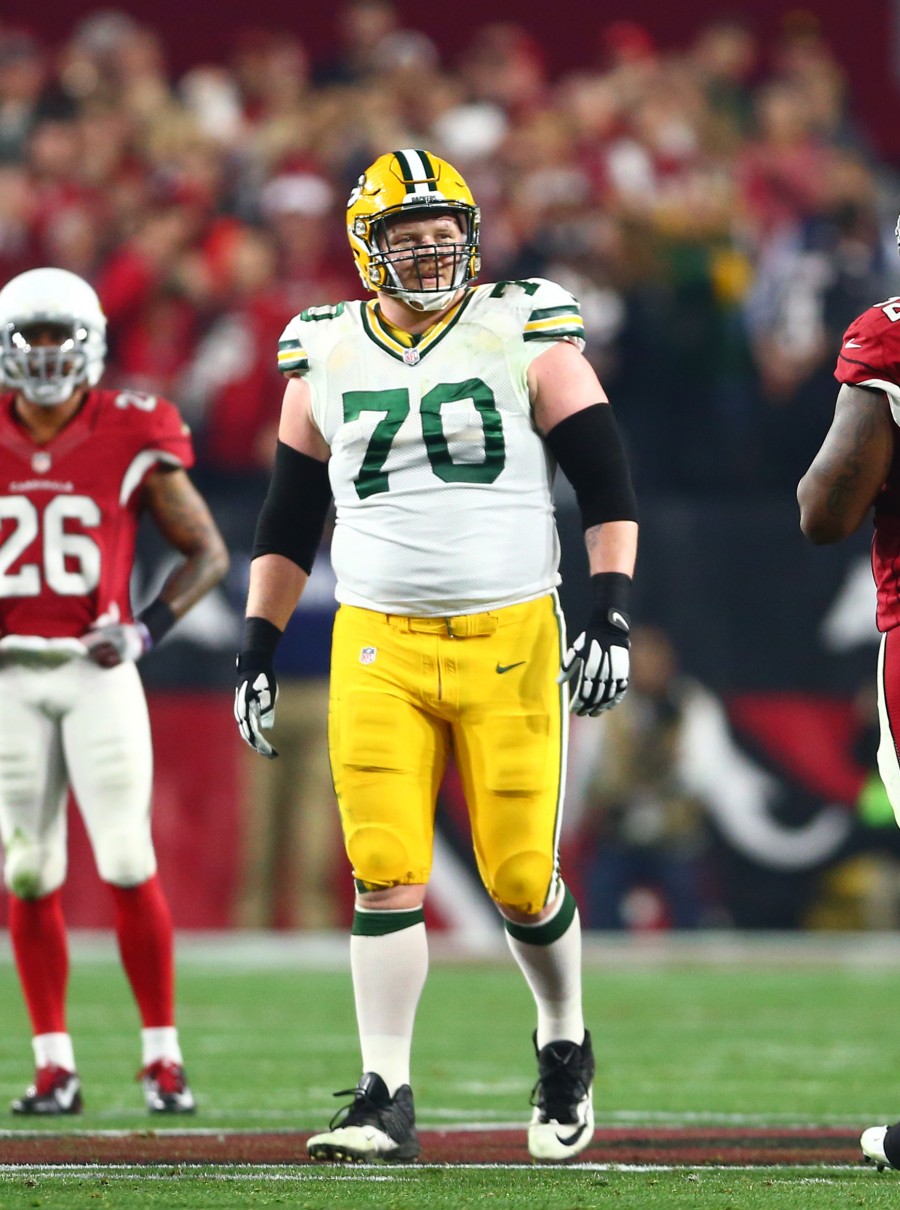 Moving to the interior, where the Rams should add a second high-end guard to complement Saffold and make life easier for Gurley, T.J. Lang (Packers), Kevin Zeitler (Bengals) and Ronald Leary (Cowboys) stand out as the foremost soon-to-be free agents. While all figure to rake in sizable contracts in the coming months, any would significantly improve the Rams' line.
It would behoove the Rams to land one of those three, as the early second round doesn't seem as if it'll overflow with possibilities. Jeremiah and Miller only have one guard apiece in their top 50 – Western Kentucky's Forrest Lamp is the former's 16th-ranked player, while the latter's list includes Indiana's Dan Feeney at No. 37 (which matches LA's pick).
Lastly, it's possible the Rams will search for a superior center to Tim Barnes, who, to his credit, is coming off back-to-back 16-start seasons. For Gurley's sake, it would make sense to target a better run blocker like A.Q. Shipley (Cardinals) or J.C. Tretter (Packers) on the open market. Jason Kelce could also become available if the Eagles release him, which looks like a legitimate possibility.

2.) Acquire more weapons for Goff: Wideouts Kenny Britt and Brian Quick finished first and second among Rams in receiving yards in 2016, and now they're headed toward free agency. It'll be more difficult to retain the 28-year-old Britt, who registered a career campaign in leading the team in receptions (68), targets (111), yards (1,002), yards per catch (14.2) and aerial touchdowns (five). Quick, 27, was decidedly less productive, though he did eclipse the 40-catch plateau and average nearly 14 yards per reception. Like the 6-foot-3, 223-pound Britt, Quick (6-3, 218) also offers size. That isn't true of any other Rams receiver – their No. 1 signed pass catcher, Austin, is just 5-8, 176 pounds.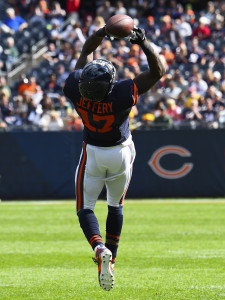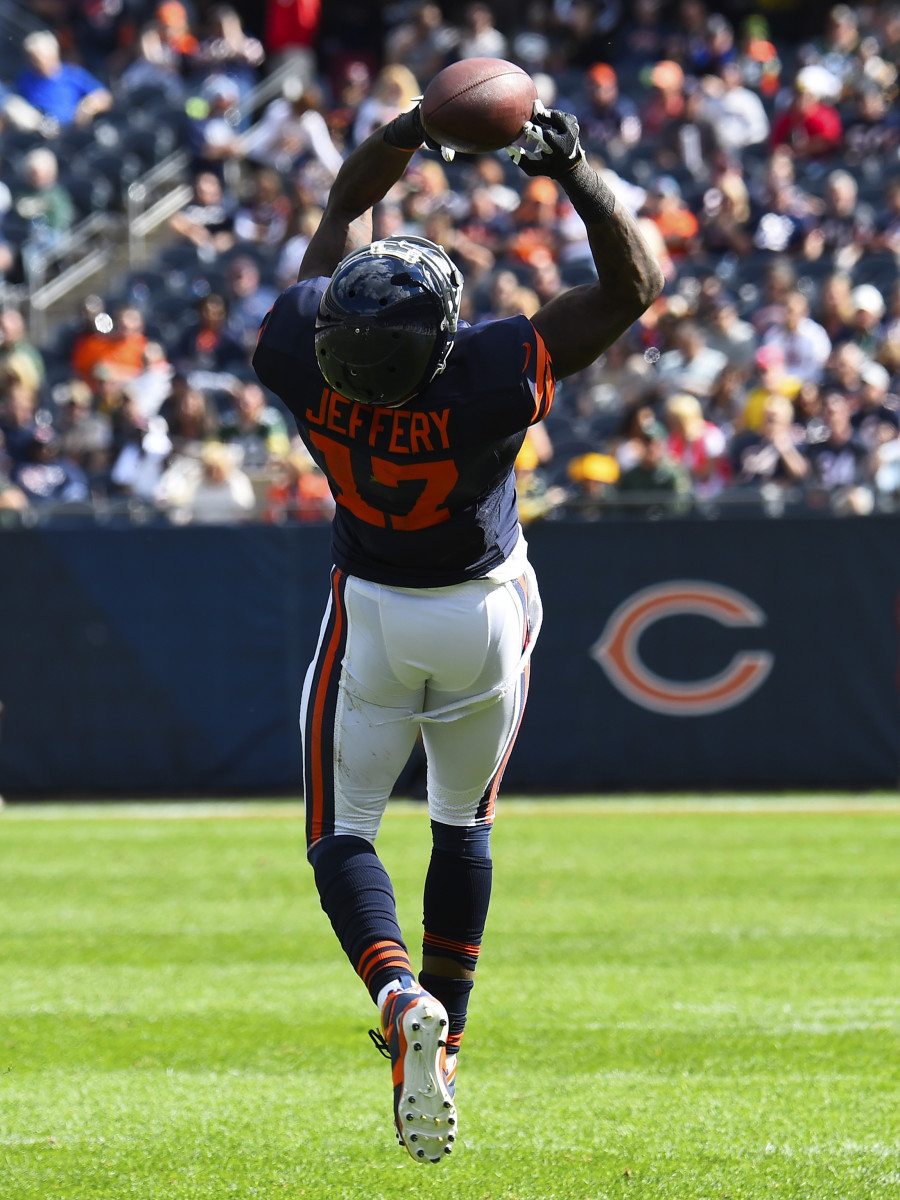 A big target, which could come in the form of re-signing Britt and/or Quick, would be nice, but the Rams can't necessarily discriminate based on size. They (and Goff) are in dire need of weaponry to complement Austin and tight end Lance Kendricks, and there will be several names to watch in free agency.
It doesn't look as though Browns receiver Terrelle Pryor will get to the market, but a large, proven, in-his-prime WR like the Bears' Alshon Jeffery would be perfect for Goff. That might be a pipe dream for LA, though – the 26-year-old would first have to leave Chicago, which would mean no franchise tag, and then the Rams would have to win a bidding war for his services.
More realistic than coming out on top in the Jeffery sweepstakes, perhaps, would be reeling in any of DeSean Jackson and/or Pierre Garcon of the Redskins, Kenny Stills (Dolphins), Ted Ginn (Panthers), Robert Woods (Bills), Kamar Aiken (Ravens), Jeremy Kerley (49ers), Terrance Williams (Cowboys), Vincent Jackson (Buccaneers), Kendall Wright (Titans) or Markus Wheaton (Steelers). McVay has clear connections to both Jackson and Garcon, having coached the pair to terrific results in Washington over the past three years. Woods, meanwhile, is a local product who starred at USC and has emerged as a solid four-year NFLer who's still young (25 in April).
The Rams seem like shoo-ins to chase receivers in free agency, but they could also look at the position early in the draft. Chad Hansen jumps to the fore as both a Cal standout and someone who was once college teammates with Goff. The two played together in 2015, though Hansen didn't break out until last season. Eastern Washington's Cooper Kupp, who Jeremiah opines "is prepared to make an immediate impact" in the pros, may also be on the board when the Rams' first selection rolls around during the spring. So could USC's JuJu Smith-Schuster, a 6-2, 220-pounder who had an excellent three-year run with the Trojans.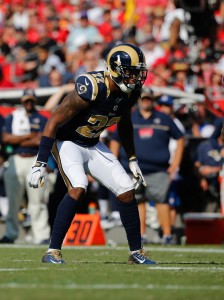 3.) Make a decision on Trumaine Johnson's future: The Rams' new defensive coordinator, mastermind Wade Phillips, emigrated from Denver, which possesses elite cornerbacks in Chris Harris Jr. and Aqib Talib. He could end up in a situation without a corner who's anywhere close to that level if the Rams let Johnson walk in free agency. Los Angeles already lost one superb corner, Janoris Jenkins, to the open market a year ago. At the same time, the team managed to keep Johnson for 2016 via the $13.9MM franchise tag. The two sides were unable to work out a long-term pact before the July deadline, though, so Johnson's future is once again uncertain as March looms.
The Rams could tag Johnson this year, but doing so would cost them $16.68MM – a bloated chunk of cap space for a deeply flawed team with other problems to address. A multiyear contract wouldn't exactly be cheap, either, evidenced by the five-year, $62MM deal with $29MM in guarantees Jenkins signed with the Giants last winter.
If the Rams are unable to pay Johnson, they'd be down to the capable Lamarcus Joyner and uninspiring defenders behind him at the corner position. Not only has Johnson been a ball hawk (16 interceptions during his half-decade as a Ram), but the 6-2, 208-pounder also brings far more size than any of LA's other corners. Given Johnson's track record, it stands to reason he's champing at the bit to cash in, so bringing him back could be unrealistic for the Rams.
Should Johnson end up out of LA's price range, free agency is set to offer other No. 1 types in A.J. Bouye (Texans), Stephon Gilmore (Bills) and Logan Ryan (Patriots), but they're also in line for massive paydays. Thus, presumably less expensive veterans such as Morris Claiborne (Cowboys), Dre Kirkpatrick (Bengals), Prince Amukamara (Jaguars) and Captain Munnerlyn (Vikings) might be of interest to the Rams if they become free agents. So, too, could any of USC's Adoree Jackson, Ohio State's Gareon Conley, Alabama's Marlon Humphrey or Washington's Kevin King, among several others in a corner-rich draft class.
Photo courtesy of USA Today Sports Images.
Follow @PFRumors