In advance of March 9, the start of free agency in the NFL, Pro Football Rumors will detail each team's three most glaring roster issues. This edition will focus on the Minnesota Vikings, who entered the 2016 season as the defending NFC North champions and ended it with eight wins and a third-place finish in the division.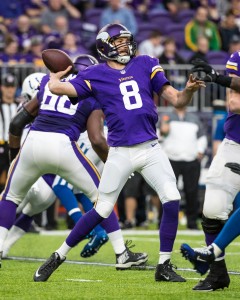 The Vikings began the year in an adverse situation on account of the devastating knee injury quarterback Teddy Bridgewater suffered at the end of August. Bridgewater sat out all of 2016 as a result, though the Vikings' quarterback production was steady without him. That output came at a significant cost, however, as the Vikings reacted to Bridgewater's injury by sending multiple draft picks – including their first-rounder this year – to the Eagles for Sam Bradford prior to Week 1. At the helm of a conservative passing attack, Bradford tossed 20 touchdowns against just five interceptions and set an NFL record with a 71.6 percent completion rate.
Given both Bradford's decent performance and Bridgewater's uncertain health, Minnesota is planning on going into 2017 with the former under center. General manager Rick Spielman will of course have to supplement the talent around Bradford to get the team back to the playoffs next season, and that task will obviously be more difficult without a first-rounder. Spielman does have eight other picks at his disposal, though, and the Vikings aren't at risk of losing a slew of crucial contributors from 2016 to free agency.
Pending Free Agents:
Top 10 Cap Hits For 2017:
Current Projected Cap Room (via Over the Cap): $23,437,353
Other:
1.) Repair the offensive line: The Vikings' offensive line finished the season as Football Outsiders' 30th-ranked group after clearing the way for an NFL-low 3.2 yards-per-carry average and allowing the league's 10th-most sacks (38). Injuries were a major part of the problem, particularly at tackle, as Matt Kalil, Andre Smith and Jake Long missed most of the year. All three of those players are scheduled to become free agents this offseason, leaving Minnesota without an obvious solution at either tackle spot. T.J. Clemmings remains under contract after leading Vikings linemen with 882 snaps, but he also ranked as Pro Football Focus' third-worst tackle. Exclusive rights free agent Jeremiah Sirles racked up significant on-field time, too, with 772 snaps, though he wasn't particularly effective (49th among PFF's 81 qualified tackle). While Clemmings and Sirles could again serve as depth next season, the Vikings are going to have to do something about both starting spots.
Of Kalil, Smith and Long, all are expendable when considering their performances, but the latter two seem especially likely to depart. Minnesota's decision to sign Smith to a one-year deal last March wasn't panning out even before he succumbed to an elbow injury a few weeks into the season. And the Vikings didn't add Long until October, which only happened because Kalil and Smith went on injured reserve. Long then suffered a torn Achilles in November, potentially ending the soon-to-be 32-year-old's career.
Kalil, who started 66 straight games prior to suffering a season-ending hip injury in Week 2, has been a staple with the Vikings since they drafted him fourth overall in 2012. However, he has struggled since a quality rookie year, meaning the Vikes could stand to upgrade over him. The problem is that they might have a hard time doing that via the draft, which doesn't feature a deep tackle class (again, no first-rounder hurts). Free agency is rather light on left tackles, too – despite his age (35), longtime Bengal Andrew Whitworth is easily the best of a weak lot and would be a more-than-capable stopgap for Minnesota. It's worth noting that Vikings head coach Mike Zimmer previously worked as the Bengals' defensive coordinator from 2008-13, so he's quite familiar with Whitworth.
Meanwhile, unless he re-signs with Jacksonville before March, Luke Joeckel will represent another option. He's all too similar to Kalil, though, as both a high pick (No. 2 in 2013) who hasn't lived up to his draft stock and someone who's coming off an injury-shortened year. Longtime NFC North rival Riley Reiff isn't great, either, but the five-year Lion does bring vast experience at both tackle spots and has started 14-plus games in four straight seasons.
Shifting to the right side, the Ravens' Ricky Wagner stands out as the top soon-to-be free agent blocker. The 27-year-old has logged 14 or more starts in each of the past three seasons, and he ranked as PFF's 19th-best tackle in 2016. Mike Remmers (Panthers), Austin Pasztor (Browns), Sebastian Vollmer (Patriots), Jordan Mills (Bills) and Marshall Newhouse (Giants) have also amassed plenty of experience, but it's debatable whether any would be clear upgrades over what the Vikings already have. At the very least, any could act as competition to the Vikes' in-house options. Vollmer and Bell did miss all of 2016, however, which could preclude Minnesota from kicking the tires on either after injuries ravaged its line during the season.
Moving inside, the Vikings might not feel the need to do anything major with left guard Alex Boone, center Joe Berger and right guard Brandon Fusco in place. Fusco is somewhat of a weak link, though, as he ranked 62nd among PFF's 74 qualified guards in 2016. Therefore, the team could try to upgrade over him with a free agent like T.J. Lang (Packers), Kevin Zeitler (Bengals; again, there's a Zimmer connection), John Jerry (Giants), Larry Warford (Lions) or Brian Winters (Jets). The Vikings might otherwise bring back key 2015 cog Mike Harris, who missed all of this season with an undisclosed illness but is optimistic about his recovery.
2.) Get Adrian Peterson to take a pay cut: As mentioned earlier, the Vikings had the worst ground game in the league this season. It didn't help that they got a mere 37 carries from Peterson, a seven-time Pro Bowler who tore his meniscus in Week 2 and only played once more after that (six attempts on Dec. 18). Peterson averaged a paltry 1.9 yards per carry during his limited action, which would be less concerning going forward if not for both his injury and age (32 in March). A return to the upper echelon isn't out of the question for Peterson, who's not far removed from winning the league's rushing title in 2015, but even a bounce back wouldn't make his 2017 salary or cap figure palatable.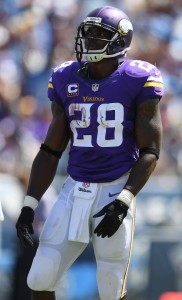 Peterson is slated to rake in $11.75MM and count $18MM against the Vikings' cap next year, and he admitted earlier this month that he'll probably have to accept a pay reduction to remain with the only franchise he has known since entering the league in 2007.
"There's the reality that there comes a point in time where, yeah, the best thing to do is take a pay cut, and it might be in the best interest of the team, as well," he told Chris Tomasson of the Pioneer Press.
If the Vikings do retain Peterson, they should use free agency or the draft to look for a better reserve than the ones they deployed in 2016. On a combined 280 carries as the primary fill-ins for Peterson, Jerick McKinnon and free agent-to-be Matt Asiata averaged a disastrous 3.3 yards per attempt. In-season signing Ronnie Hillman was even worse on a rate basis (2.8 YPC), though he only netted 18 rushes.
Releasing Peterson would put the Vikings in the market for a new No. 1 back, and there are only a few on the way to free agency in Eddie Lacy (Packers), LeGarrette Blount (Patriots) and Latavius Murray (Raiders). Le'Veon Bell is the premier rusher without a contract for 2017, but Pittsburgh isn't going to let him walk. Although the Chiefs seem likely to cut four-time Pro Bowler Jamaal Charles after the season – which would give the Vikings another choice – he has only played eight games the past two years because of knee problems.
3.) Make a decision on Sharrif Floyd's future: Minnesota had one of the league's most formidable defenses in 2016, finishing with upper-tier rankings in yardage (third), sacks (fifth), scoring (sixth) and DVOA (ninth). Impressively, it managed that success without the eminently talented Floyd, a three-technique tackle who played 25 snaps in Week 1 and then didn't take the field again for the rest of the season. When Floyd underwent arthroscopic knee surgery in late September, the expectation was that he'd return at some point during the year. The Vikings finally abandoned hope on that possibility when they placed Floyd on IR on Dec. 12, and Zimmer sounded somewhat fed up with the 25-year-old over his lost season.
"I'm not going to assess him to the media," Zimmer said (via Matthew Coller of 1500 ESPN). "I'll assess him to Rick [Spielman] when we sit down and talk."
Injuries aren't anything new for Floyd, who hasn't registered a 16-game season since 2013 – his rookie campaign – and has sat out a total of 20 games going back to his second year. Floyd has been mostly outstanding when healthy, but if the Vikings decide they're ready to go in another direction, releasing him would save the team his entire cap number – $6,757,000 – in 2017. At the same time, it would leave the Vikes with a sizable hole adjacent to standout D-tackle Linval Joseph. Shamar Stephen handled the bulk of the work in Floyd's stead this season, but he was overmatched across 551 snaps, grading as PFF's 13th-worst tackle among 125 qualifiers. Tom Johnson was far better (47th, per PFF), though he's mostly an option in passing situations.
Should the Vikings wave goodbye to Floyd, free agent possibilities could include Kawann Short (Panthers), Bennie Logan (Eagles), Abry Jones (Jaguars), Alan Branch (Patriots) and Domata Peko (Bengals), among others. While Short would be the ideal option, odds are the Panthers will either re-sign or place the franchise tag on him; Logan and Jones, meanwhile, each have three-technique experience; and Zimmer coached Peko in Cincinnati. Peko, for what it's worth, spoke glowingly of Zimmer last August (via Coley Harvey of ESPN.com).
Photo courtesy of USA Today Sports Images.
Follow @PFRumors