The Titans have put their cards on the table. They have a standing offer out to the Saints for wide receiver Brandin Cooks, a source tells Adam Schefter of ESPN.com (on Twitter).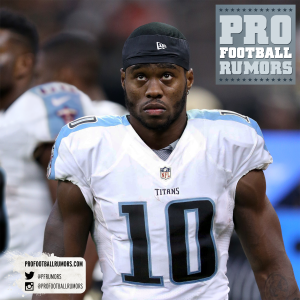 Tennessee has been working to land Cooks for the past week or so. The Eagles dropped out of the Cooks chase – and we can say that with certainty now that they've signed Alshon Jeffery and Torrey Smith – but the Patriots are still very much in pursuit. It's not yet known what the Titans have offered to the Saints, but it may involve first-round compensation. The Titans own the No. 5 overall selection as well as the No. 18 overall pick. One scenario floated recently involved the Titans swapping their No. 5 pick for the Saints' No. 11 pick.
The Patriots, meanwhile, are reportedly considering a trade that would involve cornerback Malcolm Butler going to New Orleans in exchange for the superstar wide receiver.
Photo courtesy of PFR on Instagram.
Follow @PFRumors