Ryan Pace and John Fox are entering their third year together with the Bears, but the duo was not seeing eye to eye before this draft commenced, Jason La Canfora of CBSSports.com notes. After this controversial weekend for the franchise, the rift between the GM and coach may well have expanded.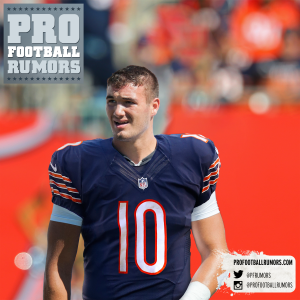 Chicago's decision to trade multiple draft picks for the right to move up from No. 3 to No. 2 and take Mitch Trubisky has Fox "fuming," according to an executive of an annual playoff contender, because the veteran head coach might not have been too involved in the decision-making process. After all, this didn't do much to help the 2017 Bears before a season that could involve Fox coaching for his job.
"We don't know what the hell they were doing," the anonymous exec told La Canfora. "It's all anyone is talking about. It's really bad between Pace and Fox. Fox is fuming about being left in the dark on the trade. I don't know anyone who likes their draft. From the first pick on, we can't figure out what they were doing. Go back and look at how many small-school kids they took. People around the league are shocked. It's really bad between Pace and Fox."
Beyond Trubisky, the Bears took injury-risk Alabama safety Eddie Jackson and three small-school prospects: Ashland tight end Adam Shaheen, North Carolina A&T running back Tarik Cohen and Kutztown offensive lineman Jordan Morgan. So the odds that this draft class can do a lot to help this particular Bears team may be quite slim. But for the future, Pace believes he's found his version of Drew Brees, although it's likely damaged the young relationship between the GM and presumptive 2017 starting quarterback Mike Glennon, Rich Campbell of the Chicago Tribune writes.
Fox has guided the Bears to nine wins in two seasons with the Bears. He led the Broncos to three straight 12-plus-win seasons from 2012-14, although he was gifted Peyton Manning midway through his Denver tenure. Campbell points to Jeff Fisher's firing, and Rams GM Les Snead being allowed to pick the next coach, months after the Jared Goff maneuver as an example of how this Trubisky pick could go badly for Fox. Noting that Trubisky will eat into the still-raw Glennon's practice reps, Campbell argues the Bears won't be getting the optimal version of the passer for whom they gave an $18.5MM guarantee.
"Either the Bears know something no one else in the league knows, or that draft just got a lot of people fired only they don't know it yet," another exec told La Canfora.
Should Pace be allowed to shop for a Fox successor as early as 2018, La Canfora expects Saints OC Pete Carmichael, whose Saints tenure overlapped with Pace's run in their front office for a nine-year period. La Canfora also speculates Northwestern HC Pat Fitzgerald would be a logical candidate, though he's skeptical if Fitzgerald would leave Northwestern.
Follow @PFRumors