Packers GM Ted Thompson operates about as conservatively as any general manager in the league, and it is difficult to argue with the results, as Green Bay has qualified for the playoffs eight years in a row and captured a Super Bowl title in the 2010 season. But Thompson has recently come under fire for his recent poor draft record, and his decision to let T.J. Lang walk in free agency this offseason may have widened the chasm between the front office and the players/coaching staff.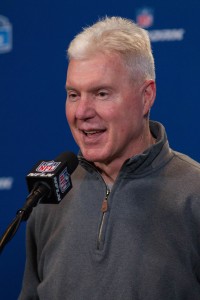 As Bob McGinn of the Journal Sentinel writes, Packers' coaches and players were "incensed" by Lang's departure, and their anger might not stem solely from the fact that they lost a valuable member of the club. McGinn writes that Green Bay's front office has a growing reputation in the league for being cheap, which has hurt the Packers' image within the locker room and in the court of public opinion.
The Packers consistently roll over a significant amount of cap room from one year to the next, and today they sit over $22MM under the cap, which will in all likelihood allow them to carry over a great deal of money to the 2018 cap as well. As McGinn observes, Thompson is overly concerned that the NFL's revenue-sharing system regarding network television and other endeavors might one day end, perhaps in the not-too-distant future. As such, Thompson believes that by saving money "for a rainy day," he is protecting the franchise from a potential financial nightmare.
But even if last year's ratings decline were a harbinger of things to come, and even if the league is forced to make dramatic changes in the way it does business, an immensely popular club like the Packers would have time to adjust and to preserve its financial well-being. So when Thompson fails to re-sign players like Lang — which, in a vacuum, is certainly a defensible decision — or when he fails to dip his toes into the deep end of the free agent pool from time to time, he opens himself up to criticism. Last year's Josh Sitton debacle, when combined with Lang's departure, has put Green Bay's offensive line in a very precarious position, and now the Packers may be forced to draft a guard from a draft class without many top-tier O-line prospects when they could have been focusing almost exclusively on defense.
There have been recent reports suggesting that Thompson could step aside into a senior scouting position, but he does have two years left on his contract and vice president Russ Ball appears to share Thompson's conservative thinking. It is therefore difficult to see Thompson leaving his present role until he is ready, but it is likewise easy to see how the team's players and coaching staff could be increasingly frustrated with their front office.
Photo courtesy of USA Today Sports Images.
Follow @PFRumors