Devonta Freeman's desire for a new deal is well-documented, thanks in large part to the public approach his management team has taken in the last year. However, the running back says that he won't be a holdout this summer in an effort to spur talks.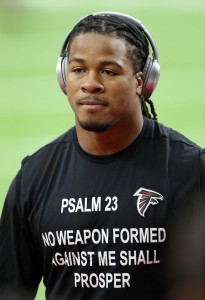 [RELATED: Eagles DE Brandon Graham Won't Hold Out Either]
"I'm going to play," Freeman said (via ESPN.com's Vaughn McClure). "Like I said, business is going to get handled regardless of what, so I just come to work. I'm going to play regardless. I love football. I love to compete. It doesn't matter about what I did last year, how many Pro Bowls I got, a thousand yards. I want to do it again and even get better, hopefully one day be a Hall of Famer. I want to leave a legacy. And holding out, that's not going to leave a legacy, because if I hold out, I'm behind. I don't want to be behind. I want to gain."
Freeman also indicated in April that he would not stay home during offseason activities, but this is strongest assertion to date. Freeman is definitely underpaid as he's set to earn $1.8MM in 2017, but he'll remain solely focused on football as he gears up for the final year of his rookie deal.
"It ain't hard at all, because I'm good," said Freeman. "I play football because I love it. … I spoke to other guys about being in similar situations that I'm in right now. The main thing I can do right now is focus on my business, and my business is being the best Devonta Freeman I can be. And business will get taken care of outside of what I do and what I bring. I can just focus on me. When it happens, it happens. It's going to be a surprise. I'm just patient."
Freeman's agent said he would be seeking "elite" money back in January and the running back himself hinted that he was frustrated about splitting carries with 2015 third-round pick Tevin Coleman. If he's still demanding "elite" money on his next deal, that could mean something that resembles or even exceeds LeSean McCoy's five-year, $40.05MM deal signed back in 2015. McCoy's yearly average of $8.01MM is second only to Le'Veon Bell's one-year, $12.12MM tender and his $18.25MM total guarantee is the highest of any non-rookie running back in the league.
Falcons owner Arthur Black is on record as saying that he wants to retain Freeman for years to come, so a new deal could come together this summer without any brazen tactics from the running back or his camp.
Photo courtesy of USA Today Sports Images.
Follow @PFRumors