Adrian Peterson averaged just 1.9 yards per carry during an injury-marred season that featured just 37 totes, but that per-handoff figure was by far a career-low mark. That said, Vikings staffers did not believe Peterson lost much physically before the torn meniscus shelved him for months, according to Albert Breer of TheMMQB.com. However, they saw avoiding future injury at an advanced age and adjusting to a new offense as potential impediments to a bounce-back tenure in New Orleans.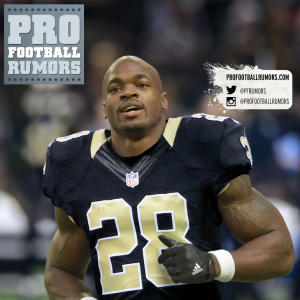 A string of prominent Saints lavished praise upon the 32-year-old with praise during the team's minicamp this week. As for Peterson himself, he detailed what kind of damage he did to his meniscus and why he feels confident he can return to previous levels.
"It's knowing what I was able to do on the field before I got injured, knowing that the meniscus was completely healed. I tore 90 percent of it, and it was no longer a factor (during his Saints work thus far)," Peterson said, via Breer, from Saints minicamp. "And then it was getting into my regimen—nothing had changed. I was still explosive, fast, working with all the young guys, I didn't have no doubt at all."
But after the abbreviated season and an untenable 2017 salary, the Vikings cut Peterson. And although he also visited the Seahawks and Patriots and was connected to other teams, the four-time All-Pro was unemployed for 47 days before catching on with the Saints. The future Hall of Fame running back, though, knew that long stay as a free agent was a possibility.
"Yeah, it was different," Peterson told Breer about his sudden status change in the NFL after 10 seasons being the unquestioned Minnesota starter. "But I knew coming off the meniscus tear, it could happen. If I came out and led the league in rushing (last season), I'd have been off the market. That wasn't the situation I was in. So in my mind — this is the situation, this is the position you're in. It's not what you envisioned going into the offseason, but this is where you're at. So how are you gonna handle it?
Peterson joined a backfield that as of now has Mark Ingram atop the depth chart and one that now has rookie Alvin Kamara installed as the passing-down back. Peterson famously returned from a torn ACL to post the second-most rushing yards in a season in NFL history, in 2012. He points out that he led the league in rushing yards just two years ago as evidence he can still function at a high level.
"Outside sources that doubt because of age? I led the league when I was 30, and it was the same thing then," Peterson said. "'He's going downhill.' I played with a mediocre offensive line and still led the league at 30. I just look at things different. If I started buying into what everyone was saying, I probably would've retired three or four years ago."
Follow @PFRumors