Barring something unforeseen, Redskins quarterback Kirk Cousins will play out the 2017 season on his one-year tender. That's just fine with both Cousins and the team, Ian Rapoport of NFL.com (on Twitter) hears.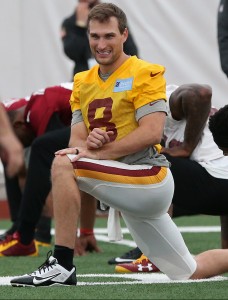 The Redskins, of course, have put themselves in a tough position by not signing Cousins to a more reasonable deal when they had the chance. In 2018, Cousins could become the best quarterback to reach the open market in recent memory and the only way the Redskins can stop him is by applying the $28MM transition tag on him or a third consecutive franchise tag at $34MM. The Redskins are facing a very delicate public relations situation here and the best way to save face, at the moment, is for them to act as though they are comfortable with the year-to-year-arrangement.
"Yes," said Redskins president Bruce Allen back in May asked if his club could use the franchise tag on Cousins again in 2018. "In the collective bargaining agreement, we really have one year and an option that we can do at the end of next season if we don't get a contract."
The deadline for the two sides to reach agreement is on Monday July 17. If they cannot shake hands on a multi-year extension, then they will not be able to sign such a deal until after the season has concluded.
Photo courtesy of USA Today Sports Images.
Follow @PFRumors