Recently, a report indicated that USC quarterback Sam Darnold – the early frontrunner to go No. 1 overall in 2018 – might wait until 2019 to enter the draft. Darnold took to the airwaves this week to deny that any decision was made, but in the process he inadvertently confirmed that he could be holding off on going pro.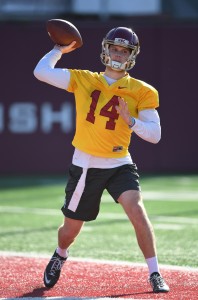 "I'm really just taking it one year at a time honestly," Darnold said on ESPN's SportsCenter. "That's my mindset. I don't know where he got his information from. I'm really just taking it one year at a time."
As a redshirt sophomore, Darnold has three years of eligibility remaining, but it has been assumed for some time that he would go pro as soon as he would be allowed. At this point, Darnold is unwilling to commit to that plan and that might be a safeguard against a disappointing season. He could also be laying the framework for getting out of being drafted by a certain team holding the No. 1 overall pick without making it too obvious.
It should be noted that Wyoming quarterback Josh Allen could challenge Darnold for the top spot in the 2018 draft, so it's not a given that the league's worst team will select the USC product. Also, there is precedent for quarterbacks steering themselves to the team they want to play for (see: Manning, Eli), so Darnold doesn't necessarily have to stay in school in order to avoid certain franchises.
Photo courtesy of USA Today Sports Images.
Follow @PFRumors