When the Dolphins and Eagles discussed the seminal trade that ended up giving Miami Kiko Alonso and Byron Maxwell and the Eagles the No. 8 pick in the 2016 draft, Philadelphia brass gave the south Florida franchise a list of players they were willing to offer.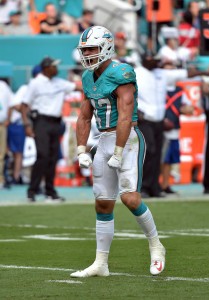 Mychal Kendricks appeared on the list, Armando Salguero of the Miami Herald reports. The Dolphins preferred Alonso to Kendricks and ended up making sure the former Bills standout only played one season with the Eagles. While the Dolphins signed Alonso to an extension, Kendricks hovered on the 2017 trade block.
Salguero reports the Dolphins studied Kendricks, who was a full-time player for the Chip Kelly-era Eagles before being relegated to a part-timer under new DC Jim Schwartz. Kendricks said in July he requested a trade out of Philly, but his 2017 salary became guaranteed earlier this year.
Dolphins executive VP Mike Tannenbaum also received reassurance on Maxwell, who did not show much with the Eagles, from Dan Quinn — Maxwell's DC for part of his years in Seattle. The rangy corner became the player the Dolphins prioritized in this deal — one that helped the Eagles move from No. 13 to No. 8, putting them in better position to make the Carson Wentz trade with the Browns — but the team wanted more, per Salguero, prompting Miami to scan Philadelphia's linebacker depth chart.
The Dolphins preferred Alonso to Kendricks because of his appeal as a three-down linebacker, Salguero notes. Kendricks is signed through the 2019 season but sits behind Jordan Hicks and Nigel Bradham in Philly's linebacker hierarchy; Hicks and Bradham function as the Eagles' nickel 'backers.
Kendricks is attached to cap numbers of $6.6MM (2017), $7.6MM ('18) and $8.6MM ('19). Alonso's extension ended up being for nearly the exact same amount as the Eagles signed Kendricks to more than 18 months earlier. The Miami outside 'backer signed a four-year, $28.9MM re-up more than a year after Kendricks signed for four years and $29MM.
Photo courtesy of USA Today Sports Images.
Follow @PFRumors